Emfit QS Sleep Analizer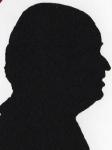 Review controls
Earlier this year I found a device that you do not need to wear that analyse your sleep patterns, that device came from Finland. Now a second somewhat similar device and they also come from Finland, my geography is not that great but two companies producing sleep analyst tools from a single European country is surely something a little unusual.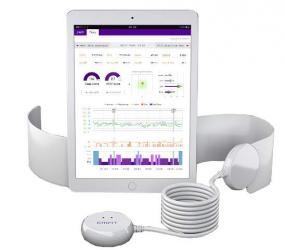 click image to enlarge
The similarity is that both get data from your body without contact as both have a thin strip of plastic material that sits under your bed sheet or mattress. The way it is transferred to be interpolated is very different, the first used Bluetooth and this current device uses your Wi-Fi. There is something to be said for both, Bluetooth uses power in your SmartPhone while Wi-Fi is sending data via your Wi-Fi router; all in all I find the latter method preferable.
The device is circular at 5.5cm and 2cm tall, it then has 1.8cm of cable linking it to a second circular device 6cm across but only 1cm tall this is hard wired to a 7cm wide plastic strip that is 54cm long it fits under your mattress level with your heart.
The other end has a lead out of the 5.5cm unit connection with a 1.8metre lead connecting to a small power brick.
There is a 'User Guide part 1' that to me is confusing as while it does mention creating an account it is not listed as the first stage and you cannot register your device without an account.
The rest is online and I doubt many will do the setup in bed so the instructions need the device to hand and power to do the initial link to your Wi-Fi.
There are two LEDs on the second circular device - the 6cm one, you need something like a straightened paper clip to do the reset and then you will see a flashing red LED, when the plastic strip is under your mattress and the link is complete it flashes green then around 30 seconds after you lay down on the bed this will turn to a solid green when it remains solid and data will be sent via Wi-Fi to the account you have created.
If you leave the bed during the night the LED then starts flashing green and only becomes solid once you lay down again.
The amount and range of information it sends is impressive and more detailed than the other Finnish Company's device.
Under the heading for the night previously is the average respiration rate and the number of 'toss and turns' you did. Lower down is a sleep score – the higher the better – and to the right of this a graph with awake time as a % and below this REM (rapid eye movement), light sleep and deep sleep these are all horizontal lines with a green 'average' area.
Next line are three long graphs showing lines for heart rate and respiration, the next shows activity and turns and the final graph shows sleep class (smaller number is better), all can be zoomed into to give a minute by minute timeline.
Like a lot of older people I do not sleep well and like a lot of such devices this over estimates the amount of sleep you get. Sleep Class 3 is normally me lying down but maybe reading or listening to music but certainly not sleeping. Sleep Class 2 is light fitful sleep with possibly a lot of turning, real deep sleep is Sleep Class 1.
Just like the other Finnish device they have good ideas but like the curates egg 'it is good in parts'.
The plastic strip could be longer as if you are in a double bed you could role beyond the sensor and so it does not register. In the frequently asked questions someone has brought up the lying still being noted as sleep time and the answer given is not satisfactory as the other device read this more accurately.
I gave the other unit highly commended and while this gives more information I find it less accurate in its readings of things that matter to me, I am sure that their readings of other things are accurate however as you see from their website they aim this product at athletes and not the old and infirm. Things like heart rate variability and HRV measurement will be useful to the athlete while I am happy that my heart is beating.
The whole interface has recently changed greatly using some new software and I hope to update this article when things have gone public.
The Emfit QS Sleep Analyser is available from the link below for 274 Euros.