Fitness for Geeks

Without the subtitle Real Science, Great Nutrition, and Good Health to Bruce W Perry's book Fitness for Geeks I would not have even bothered to look at this most interesting book. It is not just for the fitness fanatic, it is also worth reading by anyone -- even a couch potato -- who is interested in getting or keeping healthy.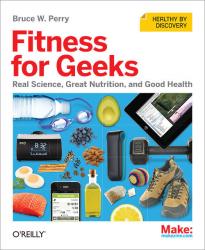 click image to enlarge
Although the style may be disconcerting at first, and the fact that the book is in general targeted at the "Geeks" who are obsessive about their health, the rest of us can dip into it on any particular aspect that interests us. However, it does point out that: "A geek is someone who spends a huge amount of time analyzing the fine points of what interests her, ad infinitum, to a level that no one around her can possibly understand."
In that context there is quite an amount of space devoted to all types of exercise and ways of measuring the "workouts" undertaken. While these physical aspects will be of great importance to those who take their exercise seriously, many will find the chapters on nutrition more relevant.
The macronutrients (carbohydrates, fats and proteins) are discussed under the heading of food chemistry basics. A separate chapter is devoted to the micronutrients: the vitamins, minerals and the phytochemical which are the chemicals such as beta-carotene and lycopene (in tomatoes). Those who have a scientific bent will find that it will enable them to get a better understanding of the issues involved. However, at the same time, it is takes a practical approach and discusses the sources of micronutrients as well as bringing to the reader's attention the easily overlooked fact that cooking alters the micronutrient content.
Even though this book is of American origin, and references are made to the U.S. Department of Agriculture National Nutrient Database, one would not expect the RDAs (recommended dietary allowances) to differ from UK recommendations to any great extent.
The author covers the importance of sleep to ensure health and fitness as well as the exercises and training regimes themselves. Types of activity, the planning of one's activities and even pre-exercise eating are all covered as is fluid replacement after exercise. Hence, overall, there is a useful amount of information in this book which will help those who wish to embark on any type of exercise to do so safely and consequently will be appreciated by those for whom exercise is the key route to fitness
Everyone is, or should be, concerned with their health. This book (ISBN: 978-1-449-39989-4) from O'Reilly, which has a recommended price of £26.99 but is available from Amazon for £20.78, provides a large amount of useful information that could well be of assistance in ensuring that one goes the right way in getting and keeping oneself healthy.