Lumie Bodyclock Wake up Light Alarm Clock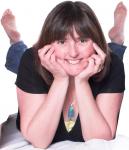 For those of you who need to get up before dawn during these winter months, the Lumie Bodyclock will wake you up gently with a simulated dawn experience and an alarm.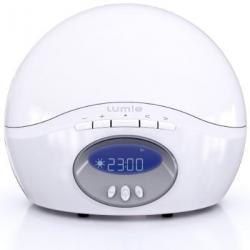 click image to enlarge
The Lumie Bodyclock is a stylish bedside light which comes on slowly to simulate a dawn experience at a time determined by you. Especially useful in these winter months, you can wake up gently without harsh ringing noises and without having to turn on a bright light in your bedroom.
The set up for the Bodyclock is simple to use, with a select button for functions and an up and down button to make the settings. First thing to do when you unpack your Lumie Bodyclock is to set the time, and then set the alarm. The light comes on over 30 minutes from dim to sunrise. You have the option of a beep alarm at the end of the 30 minute light-up time. You can also set the clock to give a 30 minute sunset, allowing you to go to sleep to the auto-dimming display.
Whilst the sunrise option is ideal for those getting up before dawn, I can also see a use for those who don't like going to sleep in the dark.
There are some additional features to the Lumie Body clock, including 'snooze'. This function turns off the light which then gradually brightens again over 9 minutes - again with a beep to tell you it's time to get up. There's also the option to have the clock display lit or completely dark when you go to sleep.
Lumie have just launched the new Lumie Bodyclock Active. The new clock gives you the option of setting the length of the sunrise at 15, 20, 30, 45, 60 or 90 minutes. It has the added benefit of letting you wake up to your favourite radio show with it's built in radio, or a range of soothing sounds including birdsong and waves.
Lumie tell us that waking up to their Bodyclock will help you wake in a better mood and feeling more energetic during the day. Clinical trials have shown that dawn simulators like the Bodyclock can improve the quality of sleep and how you feel when you are awake. They've also been shown to help those with Seasonal Affective Disorder.
We found the Bodyclock Starter 30 for £59.95 and the Bodyclock Active 250 Wake-up Light Alarm Clock for £99.95 at Amazon.