RuckJack it's a Jacket and a Rucksack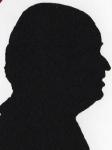 I first heard about this on a TV program, found the link and arranged to try one. Things do not always go to plan and this certainly was one of those occasions.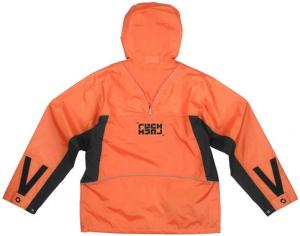 click image to enlarge
I have a 48inch chest and specifically asked for an 'XL' I was sent a large, maybe I should have quit then as it barely went round me and as for zipping it up well I was at least 6 inches short of getting it to meet. Anyhow it was changed for an 'XL' and providing I do not have too many layers on I can zip it up.
My next problem was how to perform the transformation from jacket to rucksack. I could not fathom it out I remember from the demo (performed by a model who people were probably watching for her assets rather than how the transformation took place) that it was meant to involve doing up a zip (this I found) and attaching two clips and only my many minutes of close squeezing of the material did I find a couple of clips. Next where were the clips they linked to?
I resorted to their website www.ruckjack.com and a couple of illustrations gave me the clues. The end of the sleeves hide the other ends. Then I proceeded to attach it to my back (upside down) and of course the sleeves that form the straps looped off my shoulders and slip down my arms.
A quick turn round and I had a sack and you could put things in it. I did all this with an empty table in my kitchen. So now I knew how to perform the transformation. So I then tried to change it back to a jacket. One of the clips was very reluctant to unclip but after a few minutes of cursing it did finally come apart. Next the zip would only go so far, it kept stopping on the piping of the Ruckjack, this could of course be newness so instead of packing it up and returning it I decided to try it out and about.
How would I manage when the best I might have would be a bush of maybe a bench to place it on?
They do provide a bag (called a cargo bag) for you to place a few items in that you might have had in the Ruckjack when it was a rucksack, as the bag is only 40x45cm with a drawstring better not have too much in the rucksack.
So now I am out on a nice day and having walked a few miles decide to try to change from rucksack to jacket (this I think is the easier transformation) I have only a few items in the rucksack and they easily fit into the cargo bag. Now to undo the zip I have a bench (the other choice would be the ground) and manage after a struggle to get the zip undone it still sticks at the piping. The clips are easier this time (however I would not like to try in the dark) and I now have a piece of material that needs to become a jacket.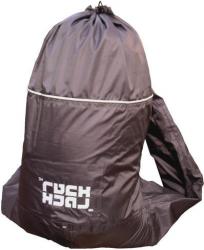 click image to enlarge
Remove my fleece (it would not do up over it) and place that with a struggle in the cargo bag. Next put on the jacket and after a fiddle manage to zip it up and now just adjust the sleeve poppers so I would not get too wet if it were raining.
Walk another couple of miles - a bit chilly without the fleece – but with no vents in the Ruckjack I am working up a sweat. Now to try the harder job of changing the rucksack into a jacket. Having done it a couple of times at home I think I know what to expect after a struggle I manage it but of course if you have nothing to lean on its harder. It still sticks on the piping and I find fitting the clips together a fiddle and if you had cold or wet fingers probably a lot harder.
My Ruckjack came in a plastic bag of course when you buy it from a shop or their link it may have better instructions than on the website, once you know what you are doing it's a little easier. I would suggest buying a larger size than you need to avoid the problems I had.
Noting the price I think an easier solution would be to buy a rucksack and a jacket it would almost certainly be cheaper. Certainly if you have a 48inch chest then the XL is not really large enough and they only do Small, Medium, Large and XL. They seem to be available in orange or black
From the website below the Ruckjack Switch Jacket 042038 is £45.99.
http://www.millets.co.uk/product/042038.html