Cowin Thunder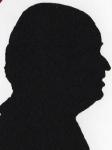 A vertical cylinder with speakers at all angles behind the grill that coats the sides. This Bluetooth offering gives a good all-round sound. So what has it to offer that other such devices cannot in what is becoming a rather crowded arena?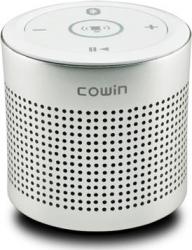 The Cowin Thunder is cylindrical at 8.5cm and also 8.5cm tall, it weighs 495grams. It has a white top and bass and chrome all around the sides with no visible seam.
Being perfectly round and with speakers all around calling anything the back seems strange but at the top of the back is a 3.5mm socket and below this at the base is the micro USB socket. On the left side at the top is an on/off button.
The unit stand .5cm proud of whatever you stand it on and there is a 3cm pedestal with a slightly tacky surface.
The top has a central button that increases the bass and around this four touch buttons + and – for volume with play/pause and Bluetooth buttons.
Returning to what you stand it on this affects the sound and while it does not rely on this for the sound promotion it does give a very different sound with or without the bass promotion. In my opinion this can be a little much depending on what sound you input.
It is mainly a Bluetooth unit and therefore the likely output will be music recorded in MP3 so you do not start with the highest quality, these days more MP3 is downloaded at higher 320mbps quality still a lot less than other formats but vastly better than the 128mbps that used to be a standard.
However as I always I took the chance to test it with my audio system by connecting using the supplied 3.5mm cable (60cm) while on cables there is also a similar length micro USB to USB cable that charges the unit.
My unit was in a 'white box' and did not have any instructions but really they are not required the only thing you might not immediately realise is the second uses of buttons. The volume up and down buttons for instance also move to the previous or next track. The Play/Pause is also used to answer or end a phone call and of course the unit has a concealed microphone.
The unit can also connect via NFC by touching or placing your SmartPhone close to the central Bluetooth button which as already mentioned also provide the Bass Boost.
Try a range of surfaces the only thing you cannot use it effectively on is a ribbed surface.
I found the Blue/Red Light on the Bluetooth button a little annoying as it continues to flash even when connected albeit at a slower speed. This is also a Red light when charging flashing slowly when charging and quickly with a very low battery. You know when it's charged as the LED goes off when fully charged.
I was very happy with sound quality and used it during my working day when moving from room to room and was able to place it in a central position and listen through kitchen, hall, lounge and office.
I found that in heavy use the battery lasted around 8 hours when on Bluetooth and slightly more when connected via 3.5mm lead.
The speakers total around 15watts and the quality was perfect for things like Internet Radio as the sound they download at is often higher than 'air' broadcasts.
The Cowin Thunder is available from their website - link below – for £89.99.
http://cowinmusic.com/thunder-bluetooth-wireless-vibration-speaker/