For Indoor and Outdoor Use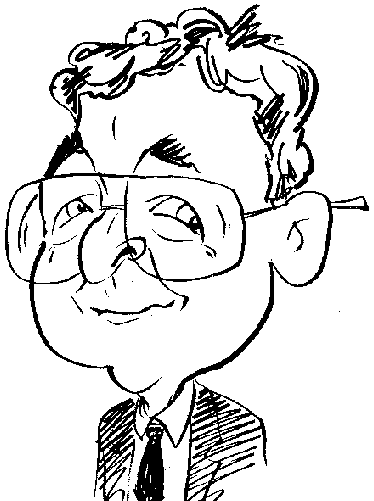 Review controls
Described as an "ultra rugged" device, the Braven BRV-X is a portable multifunction product. The Braven BRV-X combines Bluetooth speaker functionality with battery charging features. It can also act as a speaker phone unit. While more suited to the outdoors, this device can also prove useful when operating indoors.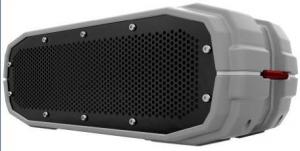 click image to enlarge
Available in a choice of black or grey, with my review sample being of the latter type, the Braven BRV-X is perhaps not the most stylish piece of kit in the market. The product consists of elements that remind me of a wide-angle camera with removable cap, tank treads and a black mess grill covering the front of the unit. This Braven device is encased within a protective compressed rubber skin that is water resistant. This is not meant to help if the device was submerged in water but should be fine in the case of a rainfall or water splashing incident.
The Braven BRV-X has dimensions of 225 x 75 x 85mm (W x H x D) and weighs 828g which means it is reasonably portable. You do get a carry strap as part of this kit. I felt attaching the strap to the Braven unit was rather fiddly even with the instructions supplied in the box. Also included in the box is a power lead with a choice of plug adapters for use in different countries, Quick Start Guide, lanyard and an audio lead with 3.5mm jack plugs.
Initially it may appear that there are no input/output sockets but this is where the lens cap, mentioned earlier, comes into play. By removing this cap, from the rear of the unit, you reveal a circular panel that provides access to a number of features. Sockets are available for power in, AUX in and a standard USB port for power out when charging various mobile units (you will need to use the lead that comes with your mobile device for charging). There is also a slider switch for changing between indoor/outdoor mode (more on this a little later) and a battery button for checking how much battery power is available and as up to five lights will glow when fully charged.
Taking over the top four corners on the Braven unit are the main controls buttons. Marked with a plus sign is the button for increasing the volume level and skipping a track with a longer press. Providing volume reduction and a skip back function is the button with a minus sign. For pairing, answering/end call and pause/resume music is the marker decorated with a right pointing chevron. The final button turns power on and off.
The Braven BRV-X offers a choice of connection options. There is support for NFC if your mobile device supports this technology. The NFC contact point, which needs to be touch by your mobile device, on the Braven BRV-X is marked by an icon on the right rear side of the unit. For devices that do not support NFC, there is the option of standard Bluetooth pairing by holding down the appropriate button on the Braven. You can also link a device that does not have Bluetooth via the supplied audio lead to the AUX socket.
There is another connection method available with this device. However this deals with linking two Braven units rather than a single unit to a mobile device. Using wireless stereo pairing, this process involves holding down the battery button on the control panel. When evoke, this technology does limit you to having a single active Bluetooth connection.
Earlier I mentioned that the Braven BRV-X can be switched between indoor and outdoor modes. With these two modes you can opt for sound output that is claimed to be optimised for either indoor or outdoor listening. By default the unit comes set for indoor mode which delivers a more rounded sound output. Flicking the switch over to outdoor mode, there is a noticeable increase in the volume level but this is accompanied by a slight dropping off in the audio quality. My preference was to stick with indoor mode where ever I happened to be.
While you can use this device to recharge your mobile devices, this does not mean that you need to loose out on its music delivery capability. By linking your mobile device to the USB port on the Braven unit, you can recharge your smartphone while it simultaneously delivers music to the Braven for your listening pleasure. It is a bit like "having your cake and eating it." The Braven's 5200 mAh power bank should give you 12 hours of playing time.
This dual functionality, or triple if you want to include the unit's speakerphone feature, does come at a price. Braven has priced this unit at £199.99 which could put off some prospective customers.
http://www.braven.eu/stores/single_product_view.do?pubID=8593&itemID=897801