Quality Speakers at a Resonable Price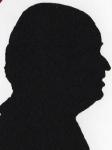 Here I am looking at two sets of small speakers, the first from Creative are a wired Bluetooth unit that is similar in size and shape to the second from Bose, a name I associate with high end audio but here at a cheaper price.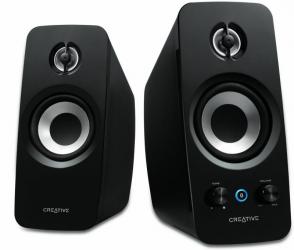 click image to enlarge
Creative T15 Wireless
These are 20x15x8.5cm the total weight is just over 2kilos.
The left speaker has a hard wired 1.4metre lead coming from the rear to connect to the right speaker.
The right speaker has a tone knob, a Bluetooth button and an on/off volume knob in a single line.
The rear has a column of four connections inset by around 1cm they are earphone out, audio input, to left speaker and DC input, the last mentioned has a 1.5metre lead to the power brick.
Each speaker has a main speaker and a tweeter.
There is a large multi-language Getting Started Sheet with half a side in English.
No other leads are supplied so you will need a 3.5mm to 3.5mm lead if you are going wired which if your device does not have Bluetooth you will have to buy.
Bluetooth pairing is straight forward so while your device can be in separate room to the speakers the speakers are still linked and of course they still also need power.
Having a separate tone control can be useful.
Sound quality was quite good with perhaps a slightly lower maximum before distortion when playing the same files as the unit above.
I connected the same range of units with the addition of also using Bluetooth from my iPod.
The Creative T15 Wireless speakers are available from the link below for £58.81 with free delivery.
http://www.amazon.co.uk/gp/product/B00FGWYIJ6?ie=UTF8&tag=gadge0a-21&linkCode=as2&camp=1634
Bose Companion 2 Series III
A set of speakers that are powered and are ideal for attaching to a PC or for playing content from an external device such as an iPod or MP3 player. So what has a quality name like Bose have to offer in this crowded market sector.
They are 19x15x8cm each speaker. The total weight is just over 1.5kilos.
The left one has a 1.8metre hard wired lead that fits into the right speaker. The right speaker has a circular twist on/off volume knob on the front with an earphone socket below it. The connections are on the back. A column of four sockets all well marked, To Left Speaker, DC Input, Auxiliary Input and Input from PC.
The DC lead is 1.6 metres to the power brick. The 3.5mm to 3.5mm lead provided is 1.1metre long.
It is unusual to have a second input meaning you can play output from a device and still have sounds from the PC.
Sound quality from the 22 watt maximum speakers was rather good and even at higher volumes no distortion was audible.
There is a large – five language - well illustrated Getting Started Guide.
Bose are known for higher priced units and here they bring quality into the lower price bracket. There is good volume increase from various inputs; I tried an iPod a MP3 player as well as the 3.5mm socket from my audio system and even a TV output.
It was nice to still have output from a PC without having to remove leads so any working sounds like incoming mail can still be heard above whatever music is your thing.
The Bose Companion 2 Series III is available from the link below for £89.95 with free delivery.
http://www.amazon.co.uk/gp/product/B00CL83JVQ?ie=UTF8&tag=gadge0a-21&linkCode=as2&camp=1634