Handheld Games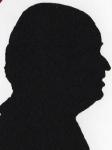 Review controls
Not the sort to appeal to children in fact they are sold from a catalogue that has medical items and even devices to make life easier for the disabled and elderly, the two I am looking at are Bridge Mate and Brain Training.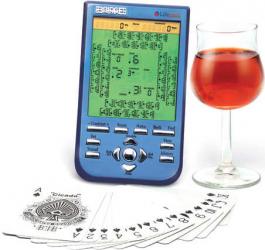 Bridge Mate
It is described as pocket size and is 12.5x6.5x2cm and weights 175grams with the required (not supplied) 3x 'AAA' batteries inserted.
The viewable screen is 7.5x6.5cm. The left side has the on/off slider. The back is where you insert the batteries behind a door controlled by a Philips screw; there is another door for those who want to link more than one such device together. The controls to use while playing are all well marked below the display screen.
These consist of thirteen silvered buttons two columns of three down each side two further buttons on the top line and below this the now all but compulsory ubiquitous five position joystick to complete the units controls.
There is a twelve page booklet 'operating instructions' which covers not only the most likely single player use but also the multi player mode. For the novice user another booklet is 'Introduction to Contract Bridge' which is subtitled 'Learn to Play Bridge in 1 Hour'. It is 36 pages long and covers all the salient basics of Bridge.
The screen display is not that sharp and if you wear glasses you will need them as while there is a contrast control this does increase the sharpness but also the display to show the background through, the card numbers are ok but the suit displays are blobs that are often hard to distinguish between without very close scrutiny.
It supports six different conventions and these need to set first. However as a Bridge novice most of these are strange to me. It should help for those who play with a partner who likes a more unusual style of play. You can also seed the unit with deals so you can replay those where you had problems making a specified contract.
Bridge Mate is available from the link below for £22.99
http://www.homecare-products.co.uk/Gifts/Games_and_Crafts/Bridgemate.aspx
Brain Exerciser
This handheld device could be useful for those who have to spend a long time sitting as it helps to keep the brain agile.
It is 13.5x7x3cm and is oval in shape. It weights 120grams with the required (not supplied) 3x'AAA' batteries inserted.
The 6x1.5cm single line monochrome display is readable. Below this are four rows of three shaped bar buttons with a single menu button below this. The first ten buttons 1 to 0 are all different colours and this is important in some of the game play.
Whereas you needed your glasses to read the screen of Bridge mate above you will need them to follow the instructions to help you setup and change games etc in Brain Exerciser. The instructions are eight sides condensed onto a single 20x15cm sheet. As the box it comes in is the same size as the item above surely a booklet could have been produced. While my sight is not what it was I can still read a book or daily paper without glasses but the 1mm tall letters in the instructions were a case to reach for my glasses.
There are six different games which you can practise as often as you like and then test yourself to check on your ability. You can check your scores to see if you are better or worse than the last time that you tried the tests.
The Brain Exerciser is available from the link below for £8.99
http://www.homecare-products.co.uk/Gifts/Games_and_Crafts/Brain_Exerciser.aspx