Cello TV with PVR and DVD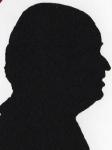 Review controls
For anyone wanting a single unit to do it all (sorry, it refuses to make the tea) then this Cello offering is not only a 32inch TV but it is also a DVD player and even can become a PVR with the addition of SD cards in the rear slots.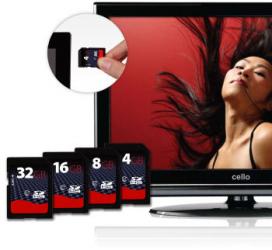 I know people who really only want the screen from their TV, even using external speakers. But the converse is also true and for some this unit from Cello will be nirvana with everything from one single electrical 13amp plug.
The Cello C2698FR television measures 80x52x10cm on a fixed stand 48x25x5cm meaning it is 57cm from whatever you sit it on. For someone who attaches a number of stands to TV's every year having fixed unit is joy, but for others I know this is less important. The screen dimensions are 70x40cm giving the notional 32inch diagonal measurement.
The unit can twist side to side on the stand and this in itself could be useful for those unable to lift the TV to twist it.
There is a single side A4 Quick Start Guide with illustrations to show the box contents. It consists of seven points to get you to a Wizard on the TV to carry things on; this is all you need to get the TV up and running successfully.
Next a 28 page Instruction Manual that is well illustrated and includes a full explanation of the 53 key remote control that is used to control all three sections of the unit (TV-DVD-PVR) and all is very clearly explained.
Finally a 16 page A4 User Guide for the TV Recorder (PVR) and this includes details for instant and dual recording as well as basic PVR use and even a feature not always available in recent TV's picture in picture ability.
Just because it can be a PVR unit and DVD player does not mean you cannot connect external devices to the unit, it has two HDMI, two SCART as well as various other connections including VGA to allow it to be used with a PC. All these controls including power input and on/off switch are in a column down the left rear of it.
Once the switch above is in the on position you can do everything from the remote. The sources available are TV, DTV, SD1, SD2, AV, SCART 1, SCART2, S-Video, HDMI 1, HDMI2, YPbPr, DVD and PC. When you first switch on or return from standby it will default to DTV unless you have just inserted a DVD when it defaults to that.
The DVD is inserted in the right front edge of the unit and it can be controlled either from the remote or the six buttons just above it on the edge.
There are seven buttons on the right front edge of the TV and these can control basic functionality but why bother when the remote can do all they can do – and more – without having to leave your arm chair or your settee.
The PVR functionality is the only thing that you need to provide something for the SD or SDHC cards. As an example an 8GB card should allow between 4 and 7 hours of recording. There are two slots and the unit can record two programs at the same time. Unlike recent dedicated PVR's you cannot replay another whilst recording two programs. The PIP function is nice and works well something not all recent TV's can deliver successfully.
If you are not a heavy PVR user then this really could allow you to do everything from a single unit quite successfully.
Doing my Internet searches found the Cello C 3298FR at a best price of £474.99 including delivery from the first link below.
http://homeshopping.24studio.co.uk/iteminfo.asp?s0=spring-book&b=SpringSummer_2010&p=306&s=3
http://www.celloelectronics.com/lcd-tv-range/pvr-technology-10742