ZoomH2 Recording Device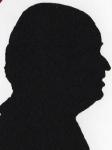 Review controls
Last year I reviewed the Edirol from Roland (25-7-08) it got a well earned highly commended. In some ways this is less easy to use, in others it offers more bells and whistles. So the choice if you want a serious portable .WAV and MP3 recorder that does not break the bank the choice lies between the two.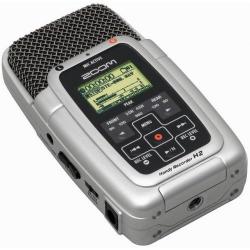 click image to enlarge
The ZoomH2 Handy Recorder is a little larger at 11x6x3cm but the first difference is that it has four microphones built in. It weights 158grams (with two AA batteries inserted). You can record from the front 90degree angle. The rear 180 degree and all round great for placing the recorder in the middle of a larger group.
The right side has USB socket, Line In, External Microphone Input and three position Microphone Gain Switch. The left side has headphone/earbud socket, volume adjustment rocker, on/off switch and A/C adapter socket. The back has a cover hiding the space for two AA batteries, the base has SD card insertion door and tripod socket. The microphone grill is both front and back at the top (a wind muff is provided for outdoor recordings).
The rest of the controls are on the lower 6.5cm of the front there is a small 2.5x1.7cm display, below this are two columns of two and a centre column of three touch buttons.
I would certainly advise a full read of the instructions in the 92 page operations manual. I took it with me to make adjustments during several gig sessions to see what works best. This is unlikely to garner perfect results first time as you are completely unaware just how sensitive the microphones are. It mentions placing the unit 50cm to a metre from the instrument you are recording as my tests were made at live performances (with permission of the artists) I was probably never closer than three or four metres away. It still easily picked up all the asides between the musicians.
I used all the Microphone positions (low medium and high gain) and indeed a range of volume settings. It also has a couple of interesting automatic catch all settings for those occasions where you really have no idea of the likely sound levels. My experiments were all make with trios. Piano, Bass and Drums. Tenor Saxophone, Guitar and Bass. Female Singer, Guitar and Bass. These gave me a good framework of likely levels and how to get the best out of things. Being trios the front microphones (90 degrees) were fine as this gave a suitable sound field. Unless you were slightly in front of the microphone you cannot see the display. Of course if you are using the rear microphones (180 degrees) you can see the display.
I would suggest that a least four or five sessions and subsequent analysis will be required before you are not simply making a best guess for levels. I found that the AGC/Compressor/Limiter function brought up the low levels quite nicely however there was some slight distortion at the top end. There are four Compressor modes and three Limiter modes, again try it to get what you need. The unit also has a Normalize function that may be a way to bring up levels that are manually recorded and too low.
You can record in .WAV or MP3. The .WAV can be 44.1, 48 or 96kHz in either 16 or 24bit. MP3 can be as low as 48k and as high as 320k. There is also a variable bit rate MP3 VBR that I did not try. The unit can also transfer .WAV to the far smaller .MP3 format if required.
Other functions I did not investigate are the Metronome Function and various instrument tuning functions using both Chromatic and dedicated string instrument function.
In my tests I just removed the SD card for all but instant transfer of data to a PC but you can of course use the USB lead. It is supplied with a 512MB card. My own tests were done using a 1GB card as 512MB would not be long enough for the average gig, you could of course change cards in the interval. My tests were made using a pair of standard Duracell batteries (not supplied) that lasted without problem. If of course you have mains power available this can be used with the supplied adapter.
To really get to know the Zoom Handy Recorder H2 I would suggest that something like six months of regular use. In the main I was delighted with what I achieved yes I only used trios, yes I only tried certain features, yes some features were not even used. However if this wets your appetite….
Doing my Internet searches found the Zoom H2 at a best price of £149.99 from the first link below. However the second link offers it with a 4GB card and case for £10 more. Lots more info on the third link.
http://www.amazon.co.uk/gp/product/B000WA368Q?ie=UTF8&tag=gadge0a-21&linkCode=as2&camp=1634
http://www.amazon.co.uk/gp/product/B000VBH2IG?ie=UTF8&tag=gadge0a-21&linkCode=as2&camp=1634