SanDisc 4 or 8GB Clip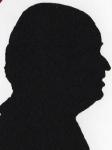 Review controls
I must be showing my age as I remember the days when 20MB was a large hard disc (I actuary remember the days before hard discs) now an MP3 player with 8GB of internal memory in a tiny body and compete with rechargeable battery.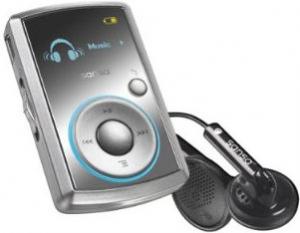 click image to enlarge
It is 5.5x3x1.5cm and weights only a few grams. The back has a clip taking .5cm of the stated width and this can open to 1.5cm meaning it can be clipped onto almost any item of clothing.
This is the second item I have recently reviewed that makes a mockery of the claimed battery life, stated at 15 hours I actually got 19 hours and 30 minutes not once but twice. The recharge time from total exhaustion is around 4 hours, if you right click on the Sansa Clip icon in My Computer and go to properties instead of seeing the amount of memory used etc you get a battery icon showing the charge state. To see the amount of memory you need to click one level down on what they call Internal Memory in the case of the 4GB you have 3.8GB available less whatever files you have moved to it. While I only saw a 4GB I am told the 8GB is identical except of course for double the memory.
While I have seen smaller units, they did not have displays nor so many functions. It is not only a MP3 player, it also has an FM Radio, Voice recorder and the ability to change a number of settings to get things just as you want it.
The face has the ubiquitous five position joystick under the very readable 1.2x2.4cm TFT display. To the right and above the joystick is the Home button. The left side has the mini USB connector and below this the on/ff slider with hold control. The right side has the volume rocker and 3.5mm jack plug, both a set of reasonable earbuds and the USB connector cable are supplied, the latter is one of the shortest I have seen at only 15cm but as you only charge/transfer when the cable is inserted this is not a problem.
There is a Quick Start Guide with the first twelve pages in English and this should get you up and running. In theory you just plug it into a USB port and Windows should recognise it, you then get an icon in My Computer and you can drag and drop files to the music sub directory on the unit. At the same time it starts to trickle charge the unit. While attached to the PC you cannot play the unit.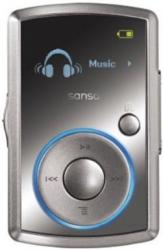 click image to enlarge
It is stated to work with Vista or Windows XP with SP2 it does. However I have two PC's that are upgraded to SP3 and on these I attached the unit and after a wait the most constructive message I got was unable to start (Code 10). My neighbour has XP with SP2 and it worked fine, he then upgraded to SP3 and it still works but then I assume that was because under SP2 it has already been registered. I have contacted SanDisk and they say they cannot find any reason, it must be a faulty unit, a replacement was sent and it was exactly the same.
If you install this device under XP SP3 and it works please let me know. Since then I have tried four other PC's with SP3 and it will not install, various reasons – even no reason at all – but if on SP2 or Vista its fine.
This is a superb MP3 player, a natty little voice recorder and a perfectly acceptable FM radio. Without the problem above it would certainly have been considered for a highly commended or possibly even the coveted 5x5 award. I know the number of people using XP is falling as all but the really basic PC's now come with Vista in some form or other. If you are happy XP then if you install this device before SP3 it should also be fine but while six different PC's is far from a huge sample as none of them that had SP3 on them works (all were from different manufacturers) finally I got the brand new Asus Eee Book (review to follow soon) and you guessed it with XP SP3 on the Sansa Clip 4GB refused to work.
Sorry to harp on but while Vista and SP2 were fine SP3 would not work for me. So what was a superb unit must be purchased with my worries in mind.
Doing my Internet searches found the Sansa Clip 4GB at a best price of £39.24 including delivery from the first link below while the 8GB version is only £44.83 - only £6 more.
http://www.amazon.co.uk/gp/product/B001AIQ0LY?ie=UTF8&tag=gadge0a-21&linkCode=as2&camp=1634
Doing my Internet searches found the Sansa Clip 4GB for $53.88 including delivery from the first link.
http://www.amazon.com/gp/product/B00126V8WU?ie=UTF8&tag=gadge0a5-20&linkCode=as2&camp=1789
Doing my Internet searches found the Sansa Clip 4GB for €59,72 including delivery from the first link. The 8GB version is available for €78,09, again including shipping.
http://www.amazon.fr/gp/product/B001AIQ0LY?ie=UTF8&tag=gadge04-21&linkCode=as2&camp=1642