Marks&Spencer 4 - Telescope and Paper Recycling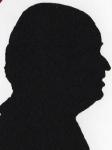 Review controls
Here I am looking at a rather nice first telescope that comes complete with a fabric bag to carry it around, sort of edutainment. Second sometime that is high on the government agenda recycling and a Paper Recycling product.
Buy Now!
Astronomical Telescope
£49.50 from Marks and Spencer
including free delivery
Paper Recycling Factory
£15 from Marks and Spencer
(free delivery on orders over £30)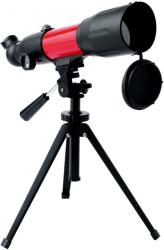 Astronomical Telescope
It is up to 43cm long and around 8cm across at the receiving end. There is a (detachable) tripod whose legs stray to 30cm. This can lift the telescope up to 45cm above whatever you are resting it on.
The eyepiece has four positions twisting through 180 degrees. There are three others lens that can be attached. I would assume this comes in a box (mine only came in the case) and no doubt the box has all the instructions. There is a small compass mounted on top of the telescope that no doubt gives the novice a general idea where in the sky he/she is pointing the telescope however as it is only little over a centimetre across I doubt it will be that accurate.
Of course if you like in a town or city with the amount of light pollution you are only occasionally going to see any starts. However should you take a trip into the countryside this could be different. I managed to gaze at a few objects from the top of a local hill but you really need far less light and of course also clear (no cloud) nights.
This is on the cusp between a toy and an educational tool. It should enable you to see if the child is really interested in astronomy. The only markings on the unit I received are D=60mm and F=350mm.
The telescope is priced at £49.50 and is available in larger stores or from the Marks and Spencer web-site on the following link :
http://www.marksandspencer.com/gp/product/B001EJUBG4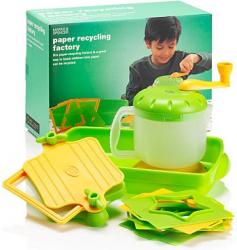 Paper Recycling Factory
Very much a toy but (say it quietly) an educational one. Just for once the instructions were in the box, this not only makes it easier for me to identify the parts but also to see if they will enable someone to use it with ease.
You get a manual blender (mixing unit), plastic tray, paper presser, mesh, six different templates and a couple of cloths.
Under 'extra items you will need' plastic sheets to protect table, plenty of scrap paper, newspaper and ripped up egg boxes. Water and finally something I find a little puzzling' Vegetable scraps or dye for food colour' I assume this is to allow you to colour the recycled paper. Later in the instructions it talks of adding paint or food colour. I would have thought the alternative instruction to add leaves or dried flowers far more environmentally sound.
Instructions are given on how to mix the water and scraps of paper and then how to empty into the templates. It suggests you leave it overnight. Maybe using it late in the afternoon (just prior to a bath) might be a good idea and then by the morning you could have something worth calling recycled paper. I suspect that after the child is asleep the parent will need to do some work (other than the clearing up) to make sure the child wakes to find something other than a yucky mess.
I am not convinced that this will help the environment in any great amount but at £15 it could be a great gift to let the child think a little about the environment he/she will inherit.
The Paper Recycling Factory is available from the larger Marks&Spencers stores or from their site on the following link :