Gear4 Duo - versatile speakers for your iPod

Published Oct 6, 2008 Author
petew
Review controls
You've painstakingly loaded all your music onto your iPod and you want to enjoy it wherever you are. Headphones are not always the answer - but do you go for high-quality 'fixed' speakers for home and and to be limited to when out, or do you sacrifice sound quality indoors in exchange for portability?
Buy Now!
Gear4 Duo
£104.94 from Amazon
including shipping


£132.99 from including shipping
from Advanced MP3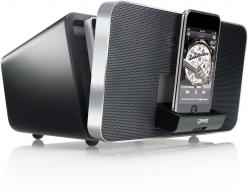 click image to enlarge
Well - now the answer is neither. Gear4 have produced the 'Duo' - the idea is that this one product provides you with rich sound when home and still have light-weight slim portable unit for when you're our and about. The solution is a little Russian doll like - heres how it works!
In it's home configuration you have a largish unit measuring around 14 x 23 x 15cm (HxWxD) weighing a little under 2Kg. The bulk of this size is a 20W sub-woofer. In this configuration you have your iPod mounted on the front framed by a set of satelite speakers (2x6W and 2x3W tweeters) generating 18W combined output giving you a total output of 38W. The sound quality wasn't the best I've heard, which is surprising given the configuration provided.
That's indoors - or at least at home. For those that like to take their music with them on holiday the idea of packing a unit this size and weight isn't really appealing and sacrificing a little bass in return for portability is a reasonable trade-off and one to which the Duo plays. Simply lift the front panel from the main unit and you have a portable speaker set weighting a much more reasonable 0.6Kg. The detachable front is self contained including the four smaller speakers, a Lithium-Ion and a sturdy metal stand. During transport the iPod dock folds into the body minimising the chance of accidental damage.
In this 'portable' configuration the Duo obviously lacks a good deal of bass - which is more striking when you 'hot remove' the unit from the bass and hear the immediate drop. The quality was however perfectly acceptable.
The standard battery should last you around 5-6 hours on a full charge (it's being charged all the time it's docked with the bass unit). This does of course depend on the volume setting you choose. If you're regularly in need of more than this then Gear4 have ceonveniently included a slot for a second battery effectively doubling battery life. Note though that I've not found the battery anywhere on the Duo site so I'm assuming they aren't expecting to sell a large number of these.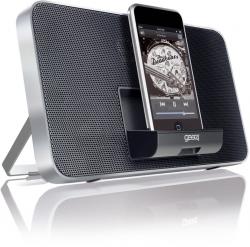 click image to enlarge
A remote control provides access to the standard iPod menus, which worked reasonably well and was only let down slightly by no autorepeat on the scroll function causing significant finger pressing to scroll through a large music collection. In practice it's easier to use the navigation functions on the iPod itself - with the exception of volume, which can be controlled from buttons on the top of the unit.
This unit isn't without some minor faults. I was a little concerned with how the portable element attaches to the bass unit. There are some locating lugs at the bottom but there isn't really anything holding the top secure. While the stand for the portable unit locks securely in place - it takes both hands to put it back, and logically you really need to do this from the bac leading to the temptation to turn it over - at which point of course you stand a good chance of your iPod dropping to the floor.
The supplied mains adaptor can plug into either the base or portable unit. Likewise both components include a separate line-in connector allowing you to connect another audio source such as a portable radio.
On the minus side I would have liked to have seen some bass/treble tone controls - the only control you have is via the iPod equaliser function itself which is fiddly to say the least on my iPod Touch.
The Gear4 Duo is a great product for those that want both portability and a good solid sound system for the home. You will find better sounding static units and portable units but you'll have to then buy both.
Checking prices the Duo is available from Amazon for £76.99, including shipping, virtually half the price of £149.99 quoted on the Gear4 web-site.
Checking prices the Duo is available from Amazon for €174,20, including shipping.