Polaroid 10.2 inch Digital Photo Frame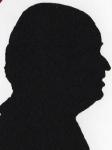 Review controls
While this is a digital photo frame it also plays music and can even play .AVI movies both sound and video, in fact it is a rather nice product all round. There has to be a minus point and my tests have produced two.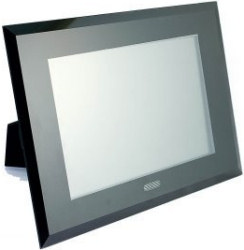 It is 32x21cm around the outside, if you have it flat against something it is 4cm thick if you use the fold out flap stand this adds another 11cm. The viewable area of the screen is 22x13cm giving the notional 10.2inches.
In theory it can be controlled from the buttons on the rear of the unit, in fact to start a screen show you need the supplied remote control. This is the watch/clock battery type with ten buttons and of course the ubiquitous five position joystick. While certain features control better from the remote sometimes others would be easier from the unit and as such perhaps all the controls could be implemented on a future unit.
While on my moans lets gets the second one cleared, there is some internal storage, it also supports SD/MMC/Memory Stick cards, USB pen/stick drives and even a mini USB connection. My moan is that only one source can be used at any time, so should you want music to accompany your slide show the music has to be on the same storage media as the images. How difficult would it be to let you specify one storage medium for music and another for images? This is less vital should you be viewing .AVI files should they also have sound.
If you have images printed the largest they are likely to be normally is 6x4 or 7x5inches of course if you print them yourself then A4 is possible and that is bigger than this digital frame but both the sizes mentioned above are far smaller.
There is a Quick Start Guide and the first five pages are in English. This should be enough to get you able to use all the features of this Polaroid unit.
Pressing the Setup button on the remote control gives a menu with icons along the top of the screen. The first is to select the source of your images, internal memory, external SD/MMC/Memory Stick card types, USB stick or mini USB. Next Photo gives you details of the photo being viewed and normally - but not always -should you do nothing this will go automatically into screen show mode and also start playing any music tracks it finds. The next option is movie mode and while it plays most .AVI files some it will not by default this will play in a 7x4cm window but the 'zoom/enter' button will play it full screen and there may be a little pixelization but remember most video is filmed at a maximum of 640x480 so you can choose to leave it displaying in the window of the frame if this is the case. The next option is music and you can choose which of the tracks you have stored to play according to the subjects you are going to show in a screen show, it seems to remain on the music screen until you press the screen show button on the remote. This restarts by default from where you left off.
The final option is Setup (yes I know setup/setup) the options here are Full Screen on/off, Slide Show Effect default is Random but there are seven other choices apart from off. Slide Show Speed fast/normal/slow. Slide Show Shuffle on/off. Music repeat one/all/off. Reset Settings. Language (the default on all Polaroid products is now English) but there are eight other language choices. Finally Brightness and Contrast both are displayed as a bar across the setting area and these can be increased or decreased as required.
This is a very nice unit and should I be permitted a third moan the frame does show finger marks but any proud house person will not allow them to remain for long.
Picture quality excellent, sound quality (MP3) good from rear facing speakers, menu choices good. However you will need not to lose the remote control to have access to everything.
The Polaroid 10.2 inch Photo Frame (01050B) has only very limited availability at the moment hence the price that I expect to come down £139.78 including delivery
http://www.amazon.co.uk/gp/product/B00191MGD8?ie=UTF8&tag=gadge0a-21&linkCode=as2