TVonics Digital TV Without SCART MFR-300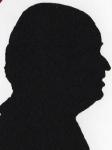 Review controls
We all know Digital TV is coming but before you chuck out perfectly good TV's because they do not have a SCART socket there is a way to get Digital TV using this little box from TVonics.
Buy Now
TVonics MRF-300
£49.95 including shipping
from John Lewis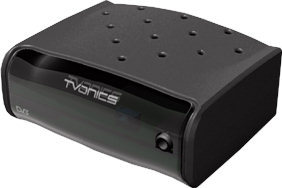 I have a 14inch Analogue TV that sits in my kitchen it works fine but when the switch off gets to my area it will end up in landfill or so I thought till I heard of this TVonics box. I had thought of adding a Digital Box but they all need a SCART socket apart from this offering.
The box is 7x9x2.5cm with cables inserted. In fact this can be hidden away anywhere and the only visible item is a little 4x3x1cm IR sensor unit. In the back of the box goes your aerial lead and from it you attach a supplied fly lead to your TV's aerial socket. The other two sockets in the back of the box are the IR lead and the A/C adapter.
Switch on your TV and tune it to a vacant channel (38 by default), providing the TVonics unit is switched on you should see a blue box saying press OK on the remote control to start tuning. Make sure you have a rock steady image first and then all the channels it finds should be great.
The scan took only a couple of minutes and it found a total of 82 channels. It then tells you the breakdown, in my case that is 49 TV, 25 Radio and 8 Data. Not all the TV channels will be available at all times and some not at all as they are Pay options. I had 40 channels that are watchable at some time of the day without any additional payment.
The all important remote control does everything once you have switched on and tuned into that channel.
Before your area switches off the analogue signal your normal five channels are still available in the normal way using your TV controls.
The remote has 33 buttons plus the five extra buttons given by the ubiquitous joystick. For anyone who has never used Digital (Great Aunt Emma for example) she will now have a 'red button'.
This unit separates TV and Data from Radio via a button on the remote. There is also a subtitle button and an Audio Description button both useful for those somewhat impaired. The TV Guide is also useful and I know a number of people who say they only buy a paper to see what is on TV so that could be a money saver. There is an Info button to give a synopsis of what you are watching and there is even a digital clock.
Everything is described in easy to follow terms in the 32 page User Guide. For anyone new to Digital TV this will get them started.
I do not expect this to be a main TV for a family as most will probably - eventually - get a digital set which will have everything built in and also remember that more and more 16:9 will be the format while the older TV's will be 4:3 but certainly in the case of my kitchen TV it will enable you to follow something while working in the kitchen whereas you are probably doing other things so maybe you are listening more than watching. You can even set a timer so that a program will come on at a start time ideal when working so that you do not miss something but are not distracted until the start time.
This is a nice basic unit and perhaps most importantly it will save a lot of otherwise useless TV's going into landfill when Analogue gets switched off.
Doing my Internet searches found the TVonics MFR-300 Micro Digital TV Receiver at a best price of £49.95 including delivery and 1 year gaurantee from John Lewis on the first link below.
http://www.johnlewis.com/230448321/Product.aspx

http://www.tvonics.com/mfr300.html