Myvu personal video on the go

Published Nov 24, 2007 Author
petew
Review controls
There are now a plethora of mobile video devices on the market. Personal DVD players started the market which has been taken up by solid state and hard disk players like Apples iPod range and the Archos range of products. While the concept has been great, personal video in public has never been, well, that personal. A criticism myvu hope to address with their range of 'media viewers'.
Buy Now
myvu media viewer
from $199 direct from myvu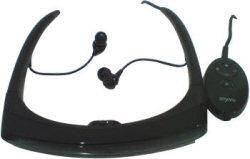 On a recent train journey virtually half the passengers had headphones inserted with their favourite music blasting into their ears. Despite an ever increasing range of mobile players capable of delivering video - not one of those passengers were making use of that video capability.
There are probably a couple of reasons for this. Firstly, for those that have sat next to someone catching up on the latest episode of Eastenders, the whole experience really isn't that personal. Another may actually be the size of the screens on many of these devices. A third may just be the inconvenience of holding the screen somewhere you can see it, not to mention the neck ache I've experienced looking down at such a device.
MyVu think they have the solution to popularising video on the move with a range of video glasses. They are not without their own aesthetic problems - you have to not mind looking like Star Trek's Geordi for a start, but then I remember being fairly self-conscious the first time I went out wearing headphones - and given the number of people that don't mind looking like something from Dr Who wearing bluetooth headsets, this isn't going to be a problem for many people!
The myvu head-set does look very much like a visor. Centrally there is a tiny LCD screen buried in the centre with a couple of lenses that project the same image into each eye. The lens is designed such that in use you appear to have a screen somewhere in front of you at a comfortable viewing distance - very clever!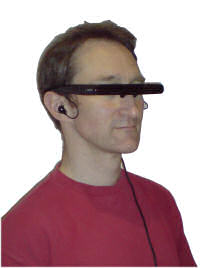 Author having a Star Trek moment!
Weight is obviously an issue with a device like this - too heavy and it won't only slip down your nose, but it'll also get to be very uncomfortable. Myvu seem to have managed this - with the weight distributed over the entire visor and the arms. In use this makes them pretty comfortable. Having just sat through an entire feature film, I can say that I found them perfectly usable. I was a little concerned that eye strain could cause a head-ache but , in my case at least, this did not happen.
Sound is provided through a pair of good quality noise-reducing ear buds that extend from each arm, that were also fairly comfortable. The package included a couple of sets of different sized attachments to fit the variety of ears out there!
If you are out and about - either on the train or delayed at an airport lounge, the screen does not completely obscure your view of the world - you can see clearly above and below, and a little to the front of you. This should be sufficient to be aware of those around you unless you become really engrossed in your programme.
Until recently the myvu glasses have been aimed solely at the iPod video market. I'm very pleased to report that they have now released a 'universal' set that will work with a wide variety of video products, including iPods, but also Archos, portable DVD players and many other devices. It is this version that I'm reviewing today - and I'm using my daughters 2 year old Goodmans DVD payer as the video source.

The product is shipped with the glasses, a soft carry pouch and an array of cables catering for a variety of video products. One concern I would have is transporting the glasses when not in use. Having suffered the loss of in-numerable sunglasses, I don't think you'll want to leave these laying around in the bottom of a bag. The provided pouch provides scratch protection, but they would be very easy to damage if squashed or sat on by accident. myvu do stock a hard case for the viewer which I'd certainly recommend taking a look at.

A lead extends from the left-hand arm to a small control unit that includes power, brightness and contrast controls. The battery is charged via USB so there is also a mini USB connector. This is great - if you're travelling and have a notebook with you then you can charge from that - otherwise you can buy USB chargers (not included). A standard USB cable is provided.
Battery life is around four hours from a full charge.
For those that are not too self-conscious then the Myvu glasses could be the ideal way of getting more out of your media player, and of relieving the tedium of a long flight without imposing your choice of entertainment on those around you.
Pricing on the www.myvu.com site is $199.99, which makes them something of a luxury right now - but then as a Christmas gift for that hard-to-buy-for person that already has a player, these could just be perfect. Right now they are not available in the UK, but are expected to be in stock very soon at the Apple Store.