Listening to your iPod without headphones!

Published Oct 1, 2007 Author
petew
Review controls
All your music on an iPod? Fed up with wearing headphones everywhere? Yearning for a 'traditional' music experience? You need one of the variety of 'solutions' to this problem - a traditional Hi-Fi, but with an added 'iPod slot'.
Buy Now
Sharp DKA1H (white)
from £129.99 at Amazon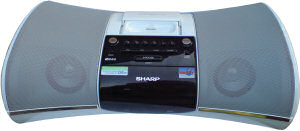 In this case I'm reviewing a product the Sharp i-Elegance. The box boasts "Plays and Charges your iPod with High Fidelity Sound". I think it's the playing that is high-fidelity rather than the charging! We've given it a road test.
First of all a summary. From the picture you'll see the box looks a lot like a traditional portable stereo. In real-life it does look very elegant, but it's not designed to be portable. It's fairly big with a 40cm by 25cm footprint. That's slightly deeper than the depth of our window-ledge so it needs some space. It's also no light weight at just over 4Kg. Finally - it doesn't take batteries.
When powered up there is a clear dot-matrix display telling you what's happening. From each end you have two glowing blue LED lights.
Sound is generated through a combination of two 4W front-speakers and a pair of 10W sub-woofers. quality from the speakers was good, especially combined with the various sound-processing options provided by the equaliser. As well as a range of modes (flat, rock, classics, pop, vocal and jazz) there is a separate E-Sound mode. Not clear what this does except make the sound clearer. I suspect it's basically the old stereo-wide mode.
Despite the speakers and various processing modes I was slightly disappointed with the quality of the sound generated. I had some other iPod speakers available at the time and found, to my untrained ears, this was my least favourite.
For the environmentally conscious reader, the standby mode on this product is very good at only 800mW.
iPod
The unit includes an iPod docking station on top, along with the control panel. When you're bored of your music collection there is also an FM/AM radio and an optional auxiliary input for those of you that want to plug your computer or CD player into the box.
The package comes with the core unit, small remote control, AM loop aerial, FM wire, power lead and a range of iPod adapter inserts to cover the supported devices. Including the adapter pre-fitted, there are a total of nine. This allows a wide selection of the iPod family to be supported. Their web-site doesn't seem to list compatible units, so I'll list them here - taken from their manual :
iPod Nano (software 1.0 and above)
iPod Photo (software 1.0 and above)
iPod Mini (software 1.2 and above)
5th generation iPod (software 1.0 and above)
4th generation iPod (software 3.0.2 and above)
3rd generation iPod (software 2,2 and above)
Please don't rely on this list before buying - make sure your version is supported, this is especially true if you're buying one of the recently released next-generation iPods!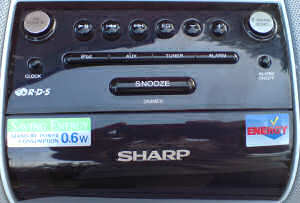 The benefit of iPod integration is that it can be controlled by the Sharp remote control. Most of the navigation controls of the iPod are available from the same remote as the rest of the system (next, previous channel, fast forward, backwards etc).
For iPods with photo/video capabilities, the Sharp e-Elegance provides video-out so you can connect to your TV. As well as playing your tunes you can navigate your image library. The problem is the size of this unit - it would fit quite nicely on top of an old CRT TV, but not alas a slim-line LCD or plasma set. I'm not convinced of the value of this feature, but maybe you do?
Radio
The FM radio is good quality. Reception is provided via a wire aerial that plugs into the back of the system and that you'll need to position for the best signal. In my case I couldn't get a good stereo signal, but then I've had this problem with every FM radio here. Luckily you can switch to mono and the sound is then very good.
One nice feature of the radio is it's support for RDS, which you may be more familiar with in your car. With this service broadcasters send out station information, which is received by the radio and made available on the display. This avoids the irritating situation of trying to work out whether you have radio 1 or radio 2!
The radio provides auto and manual tuning. As far as I could work out the only way to tune is via the remote control. You can store up to 40 channels in memory to be recalled very easily by stepping up and down through memory.
Although this is obviously aimed at the iPod market, I think it's a missed opportunity not to provide a DAB radio with this product - particularly given a price in the region of £150.
Summary
The Sharp i-Elegance is a big unit - it's not going to sit comfortably in a corner, it needs a little space. Sound quality is good, although not the best we've heard. It integrates with a wide range of iPod variants. Build quality is very good.
The remote is small and does everything you need. Some functions, such as controlling your iPod and tuning the radio, are only available on the remote so make sure you don't loose it!
This product does seem expensive. Personally I found the sound quality from some of the smaller less expensive units to be better than the Sharp, but some of that is likely to be personal preference. The best price (of only a few) I've managed to find on the Internet is from one of Amazons partners at £129.99 :
http://www.amazon.co.uk/gp/offer-listing/B000S6DRRE?condition=new