Wind up and Solar powered Radio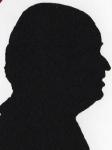 Review controls
Wind up radios have been around for a while, Solar power has been usable abroad, now with global warming they become viable here, combining the two could suit the UK.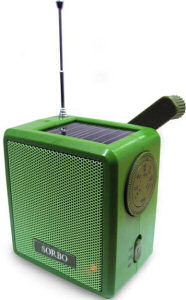 This is a rectangular unit, as this is the ultimate green product it is no surprise that it is a green colour. It is 7x5x8cm and weights only around 200grams. It may come in other colours as the packaging shows a white unit.
The front is a grill mesh with a 4cm circular speaker behind it. The top has a small five piece rod aerial that extends to 22cm and 4.5x3.5cm solar panel. The left side has circular volume control and earbud input. The right side has another circular control this one to tune to the station. Below this is a slider for AM/FM/WB. The back has a fold out handle that is used for charging when you have not got continuous sunlight.
The only instructions are on the back of the unit and being polite I would suggest they were written by someone to whom English is certainly a foreign language. On several occasions solar is spelt 'soler'. The unit is manufactured in China which may dispel any saving you may make by not having replacable batteries to power it.
When fully charged it is stated to last in excess of seven hours. I got eleven and a half hours over two days listening to the test match.
The internal battery is Ni-MH and stated to be 300mah/2.4volt. A more understandable state of the battery is shown through the front grill by a red LED that gets progressively dimmer as the unit runs down, it becomes almost invisible before the unit dies. The LED also works as a guide to when the station is perfectly tuned as it goes out once off station.
The FM frequency is the normal 87-108MHz, the AM frequency is 530-1600KHz and the third more unusual frequency is the weather band at 149-186MHz.
Just to the left of the solar panel is another LED that comes on when being charged either by solar power or hand cranking. One minute of hand cranking (it does not seem to matter which way you turn the crank) is stated to give more than twenty minutes of listening. While I proved that the solar panel worked as I ran the unit out of power and then left it in the sun for a couple of hours the stated claim is after five hours of sunlight (no indication of what constitutes sunlight) is more than thirty minutes listening.
Not only did I use this in my office and garden but I also took it on a train journey and while you need to keep to pointing the correct way it still worked without problems.
I found the volume level needs to set somewhat higher on the FM band. I only managed to get static on the weather band but I do live nearly fifty miles from the coast and I assume - rightly or wrongly - that this is probably more active in coastal areas.
This is perhaps more of a gadget that a useful radio but with the hand crank you will never be without a working battery even if you need to crank it quite a lot. The solar panel in the UK is probably never going to power it for any length of time. It is stated to be rain proof but I never tested what qualifies as rain.
This is sold in the UK by Gizoo. The link below takes you to it for £9.95.
http://www.gizoo.co.uk/Products/TravelLeisure/Outdoor/WindUpSolarRadio.htm