GPO Brooklyn Ghetto Blaster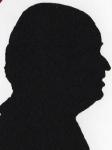 If like me you are old enough to remember the original Ghetto Blaster it was large and you needed strong shoulders to walk it around, it did not have that many features apart from being very loud. This unit is very different.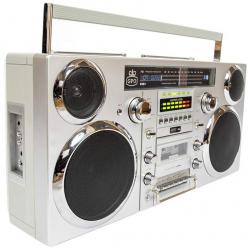 click image to enlarge
Yes it is heavy at over 9 kilos (that more than 20lbs) it can be loud should you wish/want but it has four quality speakers and separate bass and treble controls as well as a balance control.
It has radio – both FM and DAB – cassette, CD, it can also play from USB stick. It has Aux and Microphone inputs and also has the ability to record both to cassette and also to USB stick.
It can be run via mains or battery power, there is a solid internally rechargeable battery provided.
While in my youth I may have been able to walk around with it on my shoulder it's all I can do to walk with it in one hand now.
Most of my tests were made with me sitting or lying and the unit around 2 metres away. Sound quality was excellent. A lot of my cassettes had remained unplayed for many years as my current CD player is exactly that.
It is 59x29x14cm with a slight increase to the last figure if the substantial carry handle is turned up.
For FM radio there are two four piece rod aerials that extend by up to 63cm each from the units top. DAB has an internal aerial. FM stations are tuned manually by a bar along a horizontal trace. DAB is an initial tune and then 100 plus stations are chosen sequentially however there is a 'recall' list.
On initial start-up you will need to manually set the LED clock and when in standby this blanked but the time is maintained providing the solid battery is inserted and has charge.
If using the unit when moving around there is a danger that a control for the cassette panel could be accidently pushed and to prevent this there is a substantial bar which you need to come over to press a button.
You can record from CD or Cassette to a blank USB stick, while this is not difficult you do need to follow the instructions from the User Manual the first 18 pages are in English in a clear easy to read font.
You can record to cassette.
You cannot record from Radio which would have been nice especially as the unit has an LED clock.
There are both dual and single line in sockets on the side as well as line out and twin microphone inputs.
The output level of the main speakers is 40watts each.
Should you wish there is flip switch to show the output levels using the green, amber and red bars.
If the unit is plugged in either on or in standby it will charge the internal battery and around 90 minutes will take it from empty to full. You get around four hours of playback without mains power this varies according to your volume levels.
This is a very nice unit with great sound. It would have been nice to be able to record from radio but that is only a minor gripe also perhaps a larger internal battery to give a longer play time without power.