Mega Pro Game Projector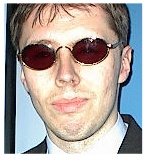 Review controls
As DVD players become almost as cheap as the discs themselves, introducing the very first LCD projector under three hundred pounds.
"Oi, stop thief!" I screamed as I chased our postman along the street, clinging to my half-eaten toast with my dressing gown blowing in the wind. Well I would have if I hadn't first checked the contents of the parcel he'd just delivered. That recent Channel 4 documentary must have made me unduly suspicious of Royal Mail's honesty. Especially when the delivery of my new LCD projector turned up in a tiny box that felt just like it was empty. But alas no, Postman Plod hadn't hood-winked my new toy as there it sat in it's box, waiting for my attention and completely oblivious to my fears.
The Mega Pro Game Projector has one significant attraction; it's price. At £299 or less, it's around a third of the price you would usually pay. For similar money you could just about get a 28 or 32 inch wide-screen TV or 15 inch LCD TV from a low cost brand.
In some cases £299 would only buy you the replacement bulb for a more expensive projector. The Mega Pro's bulbs however cost an astonishingly low nineteen pounds. Although each bulb does only last 1000 hours before it needs changing.
Despite it's bargain price, the Game Projector feels reasonably well made and comes in a very lightweight, dark blue unit about the size of a Central London Yellow Pages. Included are a remote control and a connecting cable for various games consoles, hence its name. Anyone wanting to connect a digital TV box (there's no built-in TV tuner), DVD player or video recorder can do so but will need to buy extra cables. Forget RGB scart though or anything better as the only connections available are composite and s-video.
So how has this ultra low price been achieved? Well for a start, it has a very low resolution. Sporting a non-wide-screen LCD panel of only 480x234 pixels, that's lower than even VHS quality meaning that this model is certainly not aimed at Audio-Video enthusiasts. It is however, directed more towards the average person in the street who might have never even seen a LCD projector working, let alone ever owned one. Think of it as a 'My First Projector', if you will.
Mega Pro quotes a picture size of between 12 to 80 inches in diameter with 5 metres being the maximum projective distance. However the larger the image you project, the more noticeable the chicken wire effect (also known as 'screen-door') becomes. This is where the structure of the individual LCD pixels making up the image is clearly visible and is common to low resolution projectors. The effect is similar to looking closely at a photograph in a newspaper and seeing the individual dots that make up the picture. To eradicate the problem, users can manually de-focus the lens slightly. However due to the low resolution, this started to make the picture look slightly blurry and began to give me eyestrain. After some experimenting, I felt more comfortable with a sharper image despite seeing the pixel structure.
The image produced is about as bright as a Big Brother contestant at a Mensa convention, so looks best in very low or no light situations. Suddenly the short 1000 hour bulb life doesn't seem important, as most people aren't going to be able to get more than a couple of hours use out of it each evening. Also, beware contrast is quite low so those expecting dark black will have to settle with dark grey instead.
Sound is usually rather poor on projectors, especially since most people tend to use surround sound systems instead. But the Mega Pro's sound is very decent indeed, with enough volume to drown out most small TVs and adequately fill an average room. High volume and good sound quality is more important for those on a budget since some purchasers might not yet be able to afford or even want surround sound.
Overall the Mega Pro and it's enormous images will come across as amazing to most of Joe Public, but expect some of your nerdier friends to criticize it's non-perfect pictures and lack of features. Still at least it'll give you that first step on the road to home cinema nirvana without bursting your wallet. As long as you realise its limitations when compared with much pricier models, then it makes a fine purchase. Just remember though. It really is that small and light so leave your friendly postman, sorry post-person alone. OK!
Specification
Power Imput: DC 12V 5A
The Life of Light: 1000H
Luminous Flux: 200~300IM
Sound: <30db
Brightness Uniformity: 75%
S - Video Input
Definition: 480 X 234
Stereo Earphone Output
Projective Dimension: 12~80inch
Can Upright Laid
Projective Distance: 0.6~5M
The Image Can Overturned
Best Projective Dimension: 48inch
All over Remote Control =Volume / Brightness / Contrast
Continuous Working Time: 8H / Chroma Can Digital Adjust
NTSC/PAL System Auto Switch
Adjustment On Screen Display
Outlook Size: 240 X 220 X 105mm
Net Weight: 950g
The Mega Pro Game Projector is available from www.boysstuff.co.uk, www.specialreserve.co.uk and other suppliers for £299 or less.