GE Digital Camera E1255W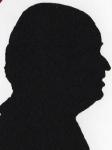 Review controls
This is the latest digital camera from GE a name that entered the digital camera market at the beginning of 2008. This is therefore the second generation of their 'E' range. It is a camera that on the face of it offers a lot.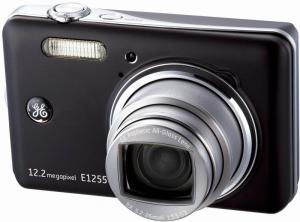 click image to enlarge
This is a 12.2mega pixel offering with 5x optical zoom. The matt black colouring together with chrome highlights make it look very smart as well as practical as it shows less fingermarks. It is 9x5.5x2cm and weights only 156grams but still has a very positive feel.
The base has tripod screw and a door that covers any SD card you use as well as the solid battery. The left side is clear while the right side has anchor point for the supplied wrist strap; it also has a rather oversize rubber bung to cover the micro USB socket. The face has the lens with the flash mounted a minimum of 4cm to its right. The top has the shutter button with the wide angle/telephoto control mounted around it. The on/off button is mounted to its left.
This leaves the back that is dominated by the 6.4.5cm TFT display with all the other controls mounted in a column to its right. A small eight position wheel, two well marked bar buttons below it and then the ubiquitous five position joystick and finally another bar button.
There is a universal manual to cover the complete range of GE cameras this I think is a little confusing as you always need to check what applies to which. It also means that you get extra sheets of paper to cover certain special features and these are all the more likely to get misplaced.
While having a moan the UK GE site was promised at the original launch when I last checked (October) we still have to use the US site and the range on offer there is somewhat different luckily this unit is the same both sides of the Atlantic.
Not only does this take good images using the basic auto setting (point and shoot) but it has some rather nice extras that include an excellent Panorama setting that not only works well but is also extremely easy to implement. Within this feature is something called pancapture that enables you not to have to stand back (not always an option inside) that enables you to capture a large group when you are really standing to close to do so.
Almost all recent cameras offer image stabilization and face detection and these work well. I have never been convinced by smile detection but if you are it has it. Blink detection does work if you think about how to best implement it so no more images that show aunt Jane with her eyes shut (apart from when she is asleep).
Auto Scene is another hand holing feature to stop you getting disappointing photos and it avoids people thinking you are a useless photographer. Flash photography can cause 'Red Eye' and most cameras boast 'Red Eye' removal, but in a lot of cases they do not work that well or in some cases the process requires you to know more than you do, here it seems to work easily and effectively.
One of the drawbacks of not having a viewfinder is that in bright sunlight you often have to shade the TFT to see the scene, this unit an automatically brightening display to help with this problem. I was happy with the flash and found it did not drop off suddenly at around 3metres as a lot of small digital cameras do, I was happy till around 4metres and that extra means any normal size room can be catered for when taking flash images.
Currently still very new and it has only limited availability.
Doing my Internet searches found the GE E1255W at a best price of £115 from the first link below.
http://www.kaleidoscope.co.uk/web/main/ProductDisplay.asp?An=0&Au=P_MasterItem&A=13B326_
http://www.general-imaging.com/us/Digital-Camera.aspx?id=539