Flip Video Mino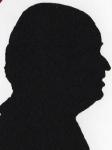 Review controls
This is the second incarnation of the rather good Flip Video Ultra. This unit is smaller slimmer and aimed at the teenager and twenties market. Everything else works the same as the original product launched in the UK last year.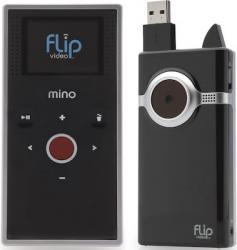 click image to enlarge
It is 10x5x2cm and weights just 75grams. The unit comes with memory to give an hour of video. This is 640x480 but it is truly excellent quality. It can be shown on a TV using the composite leads provided that fit into a TV (2.5mm socket) on the left side of the unit.
It is as good as any normal TV picture providing of course the images you take do not suffer from shake. To help with this there is a tripod screw in the base of the unit. Alternatively brace it on any solid object. There is some zoom and I was pleasantly surprised that audio did not break up during zooming as it does with some cameras used as camcorders.
The right side has a wrist strap anchor point and the on/off switch, the top has a flip out USB connector that enables you to connect to a PC this is controlled by a flip switch on the top left. The face has the lens and a rather good microphone towards the top. The back has the other controls. There is a small 3x2.3cm TFT display showing what you have in the 'viewfinder'. There are two slightly recessed controls either side of the larger red shooting button. Around this at the four compass points are + and - at north and south and < and > in the west and east points.
On first connection to a PC it downloads some software and this enables you to view, edit, email or store your videos on the PC. Once you enter the edit mode you can even capture still shots and make .jpg images.
The size of files will of course vary according to what is being captured but in round figures it is 27MB per minute and a snap taken from a video will maybe be around 50k.
The video files are named VID00001.AVI etc and while you can rename them if you do so while they are still on the Mino the software will no longer see them. Once on the PC Windows can see them renamed or not and on my PC they display in an 18x14cm window again good video and sound quality.
I have delved deeper into the software provided with the Mino and it is not perfect. You can send a link to a friend so he/she can view the files that will reside on a server somewhere or make it viewable by all by sending to somewhere like You Tube. However while the software compresses the video to around 14% of the original size it is slow to convert. A ten minute clip easily allows you time to have lunch while it works.
In theory it sends an email to you and to the person you want to have the link. I compressed three files one very small the emails were received quite quickly. The second file disappeared in the ether for 24 hours and the third file came back a few hours after the very small one. So while it is probably a lot quicker than burning a CD/DVD and sending by post it certainly is not instantaneous.
However this is only a single problem (well two if you count the image renaming) and the main joys are the ease of use, great quality and something I have to mention brilliant images in low light. A normal bulb in a room at night gives excellent images something even a full blown camcorder will struggle with.
This at just over the hundred pounds it maybe is and maybe isn't an impulse buy however the quality certainly makes it worth purchasing. While the image size remains unchanged from the original larger unit reviewed in June (Flip Ultra review) it is smaller neater and dare I say smarter.
If you are aware of the possible delays and time taken by the software to work to compress the files it is not a problem. Viewing on a PC or TV is excellent in fact the latter is brilliant. You can always burn CD's or DVD's but I suspect the 30second or 1-2 minute clips will proliferate but I have taken many ten minute plus clips and been quite happy with the output of both video and audio.
Doing my Internet searches found the Flip Video Mino at a best price of £108.08 including free delivery from the link below. It is available in either black or white.
http://www.amazon.co.uk/gp/product/B0016BXRB6?ie=UTF8&tag=gadge0a-21&linkCode=as2&camp=1634
Doing my Internet searches found the Flip Video Mino at a best price of $209 including free delivery from the link below. It is available in either black or white.
http://www.amazon.com/gp/product/B001HSOFI2?ie=UTF8&tag=gadge0a5-20&linkCode=as2&camp=1789
Doing my Internet searches found the Flip Video Mino at a best price of €156,39 including delivery from the link below. It is available in either black or white.
http://www.amazon.fr/gp/product/B0016BVKAQ?ie=UTF8&tag=gadge04-21&linkCode=as2&camp=1642
Long after this review was completed and just days before publication the software was upgraded and this got rid of a lot of my concerns, downloads are quicker, the interface is far better. It is even somewhat faster reducing the size and sending for email sharing. Only one fault remains it still cannot see renamed files. At least it should have a counter such as in digital cameras that increments from the last number instead of returning to VID0001.