FujiFilm FinePix S8100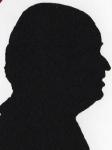 Review controls
While many digital cameras can equal or even better the 10MP image size of this FinePix S8100 I cannot think of any that come up to the 18x optical zoom that it offers.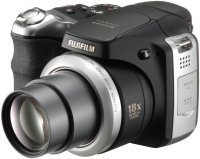 click to enlarge
It is 10.5x9x7.5cm when off in your hand or hanging round your neck however when fully zoomed you need to add another 6cm to the 9cm width. It weights a tad under 500 grams.
It comes with a 68 page Basic Manual and while this does very little to explain all the 'bells and whistles' it will get even the novice going. However the pages that got me salivating were pages 44 to 46 that covered in very small type all the features that this superb offering has to offer. Sadly in the limited review time available I could only sample most very briefly.
There are seven different still shooting modes. 10MP fine and 10MP normal 3648x2736, 3:2 3648x2432, 5MP 2592x1944, 3MP 2048x1536, 2MP 1600x1200, and VGA 640x480. The unit comes with 58MB of internal memory and this would probably take 11, 23, 25, 44, 70, 87 and 358 images. However like the recently reviewed S1000fd it can store images on either xD or SD cards. The xD cards are stated to be accepted up to 2GB as are standard SD cards. However it also supports the latest SDHC cards up to 8GB.
While on sizes and amounts it can take movies at 30FPS at both 640x480 and 320x240, these can only be stored up to 2GB in size (according to the manual) and then you need to start another recording. That would be over 35 minutes at the higher resolution and more than 59 minutes at the lower.
There are two unpleasant surprises first it is supplied with 'AA' batteries and second the flash needs to manually flicked up. With a quality unit like this I find both these unusual.
Briefly round the camera, the right side has a slide door that hides any SD or xD card you might insert. The left side has a rubber bung covering A/V out and DC input. The base has insertion point for the 4x'AA' batteries and the all important tripod anchor point.
A neck strap is provided and the two substantial anchor points are either side of the top . This also has the pop up flash release the on/off slider, the shutter button with wide angle/telephoto around it. There are two other buttons and eleven position wheel.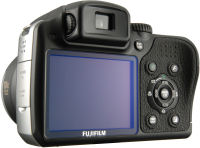 click to enlarge
Unlike the majority of modern digital cameras this not only has a TFT on the back but also a viewfinder. The viewfinder has a focus control on the side while the 5.5x4cm TFT gives clear crisp images in all but really strong sunlight. To the right of this are five further buttons as well as the ubiquitous five position joystick.
As always the manufacturers assume you are right handed but I have long accepted this and there is a wonderful right hand grab that keeps finger well clear of the lens and leaves the thumb free for the shutter.
Using this is a joy, the images it produces - even in Auto mode - are wonderful. The 18x zoom enables you to read information that normally would only be the domain of binoculars. However remember that keeping the camera shake free at this sort of zoom is near impossible and while the anti shake mode lessens it you will need to anchor it on a solid surface or use a tripod to get pleasing results.
Doing my Internet searches found the FujiFilm Finepix S8100fd at a best price of £197.95 from the first link below.
http://www.purelygadgets.co.uk/showproduct.php?prodid=22623
http://www.fujifilm.co.uk/consumer/digital/digital-cameras/d-slr-long-zoom/finepix-s8100fd-119771