Kodak V610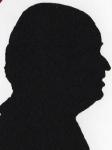 This looks a very interesting camera with 10x optical zoom, so that it is not hugely unbalanced it has two separate lenses, potentially a unique offering.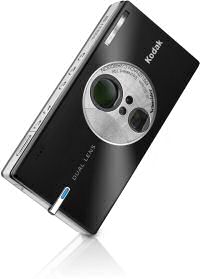 It is very slim and would easily fit in a pocket, the twin lenses are covered but the large TFT is not, so there is a possibility of damage, if the flimsy draw string bag I was sent is the only protection for the unit I see the opportunity for screen damage.
It is 11x5.5x2.5cm, the TFT screen is 6x4cm and is described as 2.8inches. This dominates the rear of the unit with five buttons in a row to its left and a five position rocker and the wide angle/telephoto adjustment to the right, that fully occupies the rear. The base has tripod screw, adapter point for removing images via cable and door for an optional SD card. The left side has DC adapter point to charge the internal solid battery. The right side has the anchor point for the wrist strap. The top has a total of six buttons including the shutter release, and, finally the front has the lens cover for both the lenses and one of the worst flash units I have ever used, this is 2cm long and less than .5cm wide so you will not be surprised when I say it is virtually useless unless the object you are capturing is within a metre and a half.
It comes as standard with only internal memory and the little adapter is vital for you to be able to transfer images via cable. If you insert an SD card - unlike a lot of other dual internal SD memory units - there is no way to transfer images to the SD card, so do not lose this little adapter that connects to a standard USB to mini USB lead.
The unit has Bluetooth so you should be able to send images that way, despite several requests the people concerned have failed to send me the Kodak printer that supports images sent via Bluetooth, I did see one working at the launch but three months later still no printer so I cannot comment on this ability.

The dual lens should work well but I found a distinct notch between one lens and the other and you had to remove your finger from the telephoto button and repress to get past it, as the lens are stacked one above the other you may even need to slightly realign your viewing. For anyone coming from a 35mm unit they will miss the standard viewfinder as images have to be sighted in the TFT, this of course makes sighting difficult in bright sunny conditions.
It can take images at 6MP, 5.3MP, 4MP, 3.1MP and 1.1MP. As with most modern digital cameras it can take short movies, however even at low resolution these use a lot of space and a reasonable sized SD would certainly be a requirement.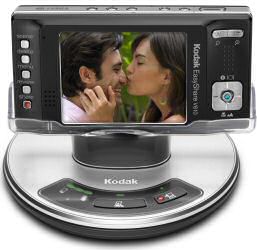 I notice in some ads that a printed image of 30x40inches is meant to be able to be produced, from images I took in good light I certainly managed to blow around 30% of an image to be printed at A4 so that claim sounds not unreasonable. It comes with a software suite V5.x and I see that V6 is now available a 60MB download.
This camera is a good idea but only for use in non flash conditions, I see that another newer model that looks somewhat similar in size and shape will be available with an external flash shoe, so I suspect Kodak realise the flash problem.
To me this camera has problems, it is not cheap, but it does try to innovate, certainly the dual lens is a good idea, however the notch at a point near the middle of the zoom is a problem, perhaps with a lot of use it could become a feature. However the poor flash to me makes it a unit only suitable for outside use or in very well lit locations. The lack of a viewfinder is another difficulty for anyone used to using one.
Doing my Internet searches found it at a best price of £289.95 inc p&p at the link below. Be careful as some stores seem to be selling a 3x zoom model with the same number.
http://www.purelygadgets.co.uk/showproduct.php?prodid=2016
http://www.kodak.com/eknec/PageQuerier.jhtml?pq-path=8912&pq-locale=en_GB