Epson Stylus Photo R360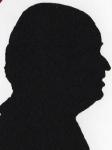 Review controls
This printer has an extra that is becoming – slowly – more common, the ability to print onto CD's and DVD's. I do not mean on a piece of paper that you then stick onto the CD but direct onto the CD.
Buy Now
Epson Stylus Photo R360
£76.89 from Amazon

£83.55 from DABs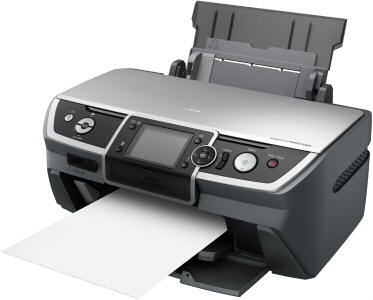 The Epson Stylus Photo R360 is not small at 40x45x24cm the first and last figures need to increase slightly when paper is inserted in the vertical back position and the space behind needs to increase when CD's are printed as the tray is taken out the rear of the printer before printing. So the figures I give are really the desk footprint of the unit. It weights around 6.5kilos.
As I am currently reviewing a Vista PC I thought lets see if Epson have drivers for it. Of course the drivers supplied will not work with Vista but a small download and I can print the test sheet and indeed from a word processor. The other applications I have on the machine from Corel also work as they are Vista certified.
Using the other software supplied by Epson produces a reboot from Vista three more downloads and a CD from Epson and I have available all the items such as Photo Print and CD Print that I would have had in XP. The CD Print had one more hurdle to put in front of me but once the missing DLL had been located on an XP PC all worked fine. So hats off to Epson who have got at least one printer working with Vista. So for anyone thinking of upgrading to Vista I shout check that your peripherals will work as several I have tried will not.
This is a six cartridge offering, two shades of Cyan and Magenta and one each of yellow and black. This means should you be a heavy user of one colour that there is less waste as you do not have to replace a tri colour cartridge with some ink in just because a single colour is exhausted. Also with more inks the various shades are easier to form and in some cases you use less ink.
The front edge has a total of 18 buttons and a 7x5cm TFT display. A range of items can be done in 'standalone mode' as it supports most card types and also Pict Bridge.

You also have basic Photo Editing built in Red Eye removal, Photo Enhance, various Print Formats and Frames.
Of course everything mentioned above and a lot more are available when printing from within Windows (98SE onwards) and MAC 10.28 or later and of course via downloads from Epson's site even VISTA.
Epson have always had a great software offerings, their Photo Print software has always offered more and their Creative Suite is nice. Now with the R360 and it's ability to print direct onto CD's and DVD's they have a CD print module. One word of caution do not try to print onto standard CD's without a special coating as the ink would never dry. Dealing briefly with the CD print module importing a graphic is simple although some thought will be required as of course the central non printed bit (the hole) could produce some problems but the ability to tile 2x2 an image may overcome this. Adding text is also straightforward all in all a nice module.
Now for basic printing as with most Epson printers the 'draft' mode is very grey although quite sharp but really only useful for layout purposes but speed tests are all conducted using this mode. The ubiquitous 200 word document was printed 18 times in a minute. The 1500 word real document spread over four pages came out at a respectable 14PPM.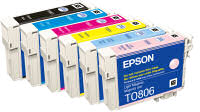 As far as printing in 'Best' mode on photo paper an A4 borderless print takes 5 minutes and 20 seconds and four images printed borderless on an A4 page takes the same time within a second or so. The latter was achieved using the Photo Print software as of course Windows only supports four 9x13cm images with borders.
Doing my Internet searches found the Epson Stylus Photo R360 at a best price of £79.99 including delivery from the first link below.
http://www.amazon.co.uk/gp/product/B000IMGQCQ
www.epson.co.uk/printers/claria_photographic_printers/Epson_Stylus_Photo_R360_printer_specs.htm