Epson Multi Function 555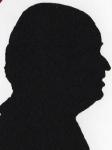 I have been using this unit for several months. Mainly because of the claim that the ink tanks should last up to two years. A bold claim but when you examine the minute amount of ink normally supplied in cartridges 70ml is a lot.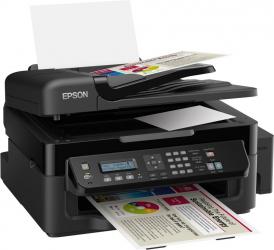 click image to enlarge
First some maths, you could buy a bargain 'All In One' for well under £100 the Epson 555 'Multi Function' – including Fax is more than three times that. Normal ink cartridges can contain as little as 3 to 4ml of ink the Epson 555 ink bottles contain 70ml. When the time comes to refill the tanks around £30 should have you full of the four inks again. So a rough – very rough – comparison says 140ml of ink and the Epson 555 around £350. £100 for an All In One and cartridges that can last less than two weeks x 100 certainly will cost more than £350. My tests are still ongoing.
It is 45x35x23cm when closed; add another 12cm to the middle figure the height to have a stack of A4 available to print.
This is of course not the first unit to work from 'tanks' filled from bottles but it is the first home unit sanctioned to do so.
So for less than £350 (latest price at the end) you get a printer, scanner with document feeder, copier and fax machine. All this comes with four bottles of ink. The black is stated to print 4000 pages and the three colours cyan, magenta and yellow which combined should do 6500 pages. I could find no document to say at what coverage those figures apply but I am certain it's only a proportion – maybe 15% - of the page, but this is a normal coverage figure.
The front panel has a total of 25 buttons the ubiquitous five position joystick and a two line display.
The unit comes with a 100 page internal paper tray and a separate upright tray at the back for special papers so you are not swapping media to print a single photograph.
The ADF (auto document feeder) is stated to hold 30 pages and of course for things that can't easily be removed from their covering to use the ADF there is a flatbed.
Printing speeds are moderate at 9PPM for monochrome and half that for colour. Printing an A4 image of glossy paper takes 195seconds again not fast but colours were good and did look like a photograph. The text pages were sharp and blacks were black.
The scanner is 1200DPI, you can connect by Wi-Fi or USB (no Ethernet) a USB lead is provided and I needed it to complete the Wi-Fi connection, strange but this is not the first unit where I have had to do this.
Filling the ink tanks requires a steady hand, the tanks are removed and placed on their sides and you then open the bottle of ink and transfer it into the appropriate tank. I would suggest having some old newspaper under the tanks as ink stains are not easy to remove. However if Epson are right saying this is a two year cycle then it's not too big an imposition, just remove children and pets from the room while doing it.
So far my tests have been in bursts as I have reviewed other units on short term loans in between but my log says things seem to be on course, I will keep you updated.
The initial charge of ink took close to twenty minutes and once left for a period of a few weeks the first page out is around four minutes as another cycle seems to take over.
The Epson Multi Function 555 is available from the first link below for £329.99 with free delivery.
http://www.amazon.co.uk/gp/product/B00KIDHM4Q?ie=UTF8&tag=gadge0a-21&linkCode=as2&camp=1634
www.epson.co.uk/gb/en/viewcon/corporatesite/products/mainunits/overview/15886?searchKey=eco tank l