HP Mono Laser M125nw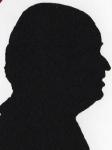 I seem to be in a run of laser units at present. This time not a colour unit, so here a workhorse unit designed for quick, efficient printing with a high standard of finish without problems, as seems essential today you can still copy and scan.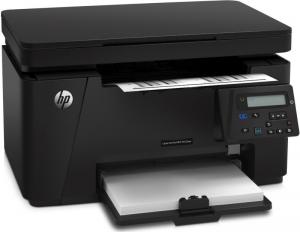 click image to enlarge
The HP Mono Laser M125nw measures 41x39x25cm, the middle figure is with A4 loaded in the paper input tray.
The front right of the unit has an 18x7cm control panel that has twelve buttons and a 6x1cm display, the whole panel flips up from the top to show at up to 45 degrees from its normal vertical position level with the front of the unit. Whatever the position you use it in it is within the overall dimensions of the unit as the paper input tray juts out 11cm from the front of the unit.
It can work via Ethernet, Wi-Fi or USB, a USB lead is supplied and you will probably need this to setup Wi-Fi initially. All connections including the mains lead enter back left.
It works with B, G and N modes on Wi-Fi.
This is a three in one unit as it prints, scans and copies. The scan mode is in colour while printing and copying are mono.
Paper is stored in flat (face up) in the open tray at the base of the unit and is delivered (face down) onto a shelf just below the flatbed scanner.
Warm up from off is only sixteen seconds. Text pages – however fully filled – will then print at 20PPM for as long as there is paper in the tray. The quality is fine and shades of grey also show up well.
Printing images in monochrome may seem strange but the right images can be eye catching in monochrome. A single A4 image from sending to printed page takes fifteen seconds.
A single copy of a page takes eight seconds from pressing the copy button on the unit till the page is delivered and it is perfect copy assuming the original is on the same paper stock you will not tell the difference between original and copy.
Scanning can only be initiated from the PC but it is fast and you do have options as to output type etc. Eighteen seconds after pressing the scan button on the PC it is completed and a dialog box on the PC asks for a name.
A full toner cartridge is stated to do 8000 pages so work out the cost per page for yourself for standard printed pages, of course if you print a lot of photos it will do less.
I used a range of paper weights and styles and as with all my reviews mixed them together so a 70gram sheet could be followed by a 120gram etc, I never had a single paper jam during my whole review period and I even used some sheets that I would describe as card at well over 200grams.
Surprisingly the cheapest price I could find was from the HP store at £161, see link below.
http://h20386.www2.hp.com/UKStore/Merch/Product.aspx?id=CZ173A&opt=B19&sel=BPRN&jumpid=reg_r1002_uken_c-001_title_r0001