PIXMA MG5550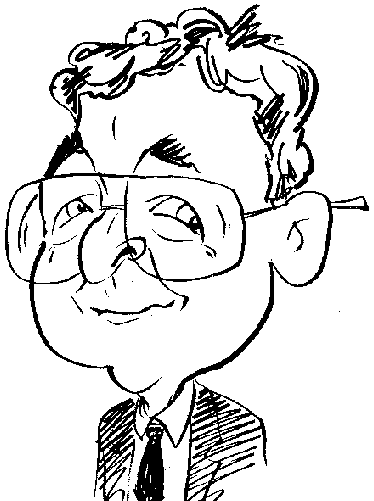 Review controls
Adding to its range of All-in-One devices, Canon has released a product that leans towards quality as against speed of delivery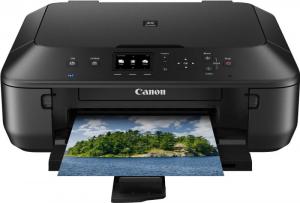 click image to enlarge
The Canon PIXMA MG5550 is an inkjet All-in-One product that offers print, scan and copy facilities with a choice of wireless or USB connectivity. Rather unassuming, but not unattractive, in appearance, this predominately matte box with rounded corners and a top that tapes inwards towards the scanner cover, has dimensions of 455 x 369 x 148mm (W x D x H). The unit weighs 13.8 lbs which means it should not be a problem to move the device to another location if the need arises.
This All-in-One product consists of the standard arrangement of an A4 flatbed scanner mounted on top of an inkjet printer that uses five cartridges. These cartridges are made up of the usual set of black, cyan, magenta and yellow plus an additional pigment black cartridge. You need to insert these cartridges into an ink tank that sits inside the body of the printer.
To gain access to the ink tank you need to raise the unit's front cover which doubles as the unit's operator panel. Arranged around a 2.5 x 2.0 inch LCD colour screen are buttons allowing you to move between modes, select options and make adjustments to various menu settings plus opt for colour or black printing. This panel also features the on/off button and a blue indicator to signify Wi-Fi activity.
Positioned below the operation panel is an opening which provides the paper input and output facilities. Rather than an enclosed paper tray, this PIXMA model has an open tray so that you can see when it is empty which, considering it has a capacity of 100 sheets of copy paper, should not be too regular a task for home users. The output tray hardly looks long enough to support A4 printed documents but there is an extender bar concealed within the paper input tray that can be used for additional support. You can use varying sizes of paper up to 105 g/m2 for copy paper and up to 300 g/m2 for photographic paper.
This particular member of the PIXMA family does not support the use of USB flash sticks or memory cards for accessing content. There is a USB port but this is located at the rear of the unit and is for linking the MG5550 to a computer if Wi-Fi is not available. The power connection socket is also located at the rear of the box.
Table 1 - Photocopy Timings

| | |
| --- | --- |
| Draft | 17 seconds |
| Standard | 20 seconds |
| High | 75 seconds |
Mounted on top of the unit is an A4 CIS flatbed scanner with an optical resolution of 1200 x 2400dpi. In Scan mode you can send the results of a scan direct to a computer or include the content in an email to be sent to other parties. The scanner can also work in conjunction with the printer to operate in photocopy mode. Documents can be produced in draft, standard or high quality. My tests failed to show all that much difference with regards to quality with the three modes although there was a marked difference in the time taken to produce each type of document (see table 1).
The same three levels of quality were available when printing documents from a computer. I ran my usual 101-word documents in monochrome and colour to check out print speeds and quality. The speed rates per minute can be seen in table 2. Although I would not want to use draft mode for important documents, it would be okay for several other tasks while standard and high modes produced good quality text and small graphics.
Table 2 - Print Speeds

| Mode | Monochrome | Colour |
| --- | --- | --- |
| Draft | 29ppm | 15ppm |
| Standard | 23ppm | 11.5ppm |
| High | 8ppm | 3.25ppm |
I was rather surprised to discover that the PIXMA MG5550 supported automatic Duplex printing. You just need to click the appropriate box. A six-page test document comprising of 3416 words was printed on three sheets of A4 paper in 122 seconds. At around 40 seconds per page for double sided printing that is not bad.
As part of the software package included with this All-in-One, which also included drivers, Quick Menu, My Printer and an on-screen User Manual, you get a copy of My Image Garden. This was the software I used to check out photo printing delivered by this inkjet unit. In all my tests, image quality was good with a choice of borderless or bordered prints. Timings for A4, 5 x 7 and 4 x 6 images are shown in table 3.
Table 3 - Photo Printing Timings

| | |
| --- | --- |
| 4 x 6 | 36 seconds |
| 5 x 7 | 45 seconds |
| A4 | 91 seconds |
While not the fastest unit around, the print quality delivered by this PIXMA MG5550 more than makes up for a little tardiness. This product will suit a home user who requires both document and photo printing capabilities. I have seen the PIXMA MG5550 priced at £79.91. Both standard and high yield ink cartridges are available for this model. Pricing for a pack of standard of all five cartridges should be around £38.50 while the high yield pack should be available for £60.98.
http://www.canon.co.uk/For_Home/Product_Finder/Printers/Inkjet/PIXMA_MG5550/