Epson Expressions WP-4025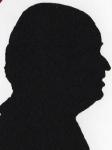 This is a printer, and this unit has multiple connection types, USB, Ethernet and Wireless, so it can work in the home, SOHO, small office and even larger office settings as a workgroup unit, so it is an all round unit.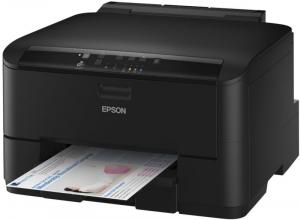 click image to enlarge
It is quite beefy in size at 45x55x44cm with paper output tray extended. You can subtract 18cm from the last figure the height when you do not have thick paper, letterheads or envelopes in the back top 80 sheet capacity paper feed.
All the controls are on the sloping front panel, there is no display so you rely on the eight LEDs and seven well marked buttons.
The main paper tray at the front base takes 250 sheets so it should work without attention for a reasonable time.
As most of the units I look at are multi function it means that my timings have to be on the 'fast' or 'draft' settings, I am well aware that a lot of people are not that bothered about massive speed and that quality is far more important so here I can mention timings from other settings other than the basic ones in the manufacturers specifications.
The strap line used by Epson for this inkjet offering is 'faster than a laser, half the cost'. This is quite a claim and while there are a few 'cheaper' colour laser printers out there they tend to print at only around a few pages per minute.
This unit can also print remotely and from many smartphones using a unique email address attached to each printer. So from the cloud can be printed in whatever country the actual printer is in. So this gives truly global output.
One claim often levelled against ink jet printers is that the cartridges are tiny print a few colour pages and you need more cartridges here this is negated by far more meaty cartridge sizes and this helps reduce the overall cost per page.
So let's start with the basic quality test I do with all units, Epson have four levels Economy, Normal, Fine and Quality. The Economy test starts with my 200 word document, this is printed 'x' times with the first and last page removed from timing and the time divided by the remaining pages to produce the page per minute time here its 22PPM. The same parameters are used for the more normal 1500 word document spread over four pages and this printed at 17PPM.
Multi page documents can be printed using an automatic duplex and this four page offering printed at 12PPM in duplex. Even though this was Economy the text was acceptable if a touch grey but bold text still appeared a darker shade. All the figures in the table below are in page per minute.
| Economy 200 | Economy 1500 | Normal 200 | Normal 1500 | Fine 200 | Fine 1500 | Quality 200 | Quality 1500 |
| --- | --- | --- | --- | --- | --- | --- | --- |
| 22 | 17 | 16 | 10 | 9 | Less than 2 | .75 | .70 |
| | Duplex 1500 | | Duplex 1500 | | Duplex 1500 | | Duplex 1500 |
| | | | 8 | | 1.8 | | .67 |
My one surprise is there was no photo printing software included on the CD-ROM this used to be one of Epson's star products as they were one of the first to allow printing of four near 15x10cm images on a single A4 sheet. Using standard Windows software allows printing of an A4 image printed on photo paper in 'best' mode to take 3 minutes.
This is a very sturdy unit as it can be connected by Wi-Fi it can be hidden if the lounge police do not like the black colour.
The Epson WP-4025 is available from the link below for £173.95 with free delivery.
http://www.amazon.co.uk/gp/product/B005H36OGE?ie=UTF8&tag=gadge0a-21&linkCode=as2&camp=1634
http://www.epson.co.uk/gb/en/viewcon/corporatesite/products/mainunits/overview/10827