Jawbone Jambox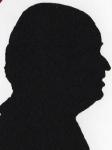 Not entirely new as I am told this first launched more than eighteen months ago. However at an event specifically to showoff its larger sibling I left with one of these smaller units to review. The brand new larger unit will follow later.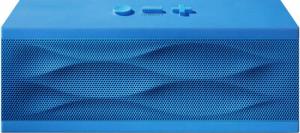 click image to enlarge
It is 15x4x5.5cm and weights 340grams. Mine was orange top and bottom and black metallic grill over the four sides. Very like an ice cream brick - not that I think you can still get them – they do a range of other colours.
The centre of the top has three buttons – also in orange – 'O' '-' '+'. The last two control the volume wired and wireless. The 'O' button allows you talk so if connected to a mobile phone via Bluetooth the music cuts out when a call comes through and then press the 'O' to be able to carry on a conversation, so you have the speaker say in the garden while your phone can stay in the house, so quality music to go with your improving tan.
The only other controls are on the right side a slider switch with LED (red and white), Auxiliary input and Micro USB.
To get stereo sound from such a small unit is quite clever and the sound quality is also rather good, the surface you place it on also changes the overall dynamic of the sound and well worth a few experiments to perfect.
There is a tiny Quick Start Guide, the first eleven sides have identification diagrams and instructions the last five are health and safety.
Even if your unit arrives with no – or very little – charge in it two and a half hours will produce a full unit. The LED on the side will turn white when fully charged. The claimed time for a full charge on Bluetooth is ten hours. I am pleased to say in repeated tests that I got eleven hours when used with Bluetooth both in continuous use and several uses to make the eleven hours. Then simply plug in the mini USB to recharge the unit.
I also used it with USB and I found that the battery lasted a little longer at close to twelve hours in single and multiple use.
The initial Bluetooth linking is simple and well explained in the Quick Start Guide; you know you are doing it right when a female voice from the unit says pairing. Once paired you can start and stop the music from your device as often as you like. However should you switch off at either end you need to repair from your Jawbone with your sending device before you start playing music. As stated you can receive phone calls from say your iPhone or Android device direct to the Jawbone and you then speak just by pressing the 'O' on the Jawbone.
The voice also starts to tell you that you need to recharge your unit around 30 minutes before the battery expires, it then repeats the message at more frequent intervals until it finally shuts down, assuming you have ignored the requests.
The bit that I found less brilliant is the fact there are extra voices and you choose one, it will download and then say there is an error but the new voice will work but after that it keeps wanting to download, work needed there.
A nice full bodied sound from a very small unit, very few controls and best of all it just works exactly as it should.
Doing my searches found it at £119.99 for Black Diamond or Blue Wave, while Red Dot was £20 more and Grey Hex £20 more again. I think the Orange and Black that I had was a special for one retailer.
http://www.amazon.co.uk/gp/product/B004L4EDGS?ie=UTF8&tag=gadge0a-21&linkCode=as2&camp=1634