Entry Level All In One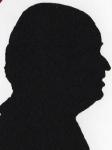 Another recent release from Canon, this one definitely for those who print a little, scan a little and copy occasionally. Just the single open input tray with the non automatically opening exit tray above it and just two cartridges.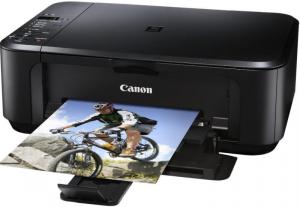 click image to enlarge
The footprint of the Canon Pixma MG2150 is 45.5x30x15cm. If you place it on a shelf you will need maybe another 5cm to the 15cm height to slide items under the flatbed lid.
Both the USB connection and the power lead enter at the back left of the unit. There are a total of nine buttons all in a column to the left of the landscape flatbed lid. Six LEDs also are in this region and a very small display that shows the number of pages being copied or on occasions denoting an error like 'out of paper'.
After a period of inactivity the display will blank leaving just a single green LED to remind you that power is on.
The paper input tray is an open offering at the bottom of the face, this adds 9cm to the 30cm depth and any A4 paper in it will add another 2cm. So the true space required is 45.5x35x41cm. The shelf will need to withstand over 5.3 kilos the weight of the unit.
The paper input tray is stated to hold 100 sheets, this number seems over optimistic; I placed 50 on one occasion as this seemed quite enough. I found that more than a dozen on the output shelf caused disorder to occur. I found the output shelf a problem on my unit as when I open the input tray and place paper in it I expect the output tray to drop down to be ready to receive output, on my unit it only opened around a centimetre or two and needs manual pressure to put it in place. Most other recent offerings open automatically when data is sent.
Printing using the Standard mode at fast speed for the nonsensical 200 word document came in at 12PPM, remember these tests do not include anything till the first page is printed and stop just prior to the last page printing. The more normal 1500 word document spread over four pages came in at 9PPM. Quality was fine.
Photo printing uses Best mode and High Quality this time was either for an A4 borderless print or four near 15x10cm prints on a single sheet of photo paper this took 282 seconds, quality was OK for a four ink printer.
Copying direct from the unit does not have reduction and enlargement available, an A4 colour page took 40 seconds while the same in monochrome took 15 seconds. I repeated this exercise several times but the strange differential remained.
Finally scanning a greyscale image using default settings took 25 seconds. The excellent Canon software also allows you to scan to print or email. It is also possible to scan to PDF, you need to know nothing just let the Canon Solutions Menu make the choices you will not be disappointed with the results that the software gives.
Having reviewed so many excellent All In One units I found this rather a disappointment, yes it is aimed at a certain section of the market and these are likely to be those who use the unit only occasionally. If the output tray sticking only occurs with my model so be it but I can only judge on what I am sent. Someone with little knowledge who gets error messages on the screen caused by the output tray could well make an unhappy customer.
If you consider this suitable I would suggest you try to find a dealer with one on display, close the paper input tray and then open it, if the paper output does not open with the input then this is a general fault.
Doing my searches found the Canon Pixma MG2150 at a best price of £39 including delivery first link. http://www.amazon.co.uk/gp/product/B005I9JQT4?ie=UTF8&tag=gadge0a-21&linkCode=as2&camp=1634
http://www.canon.co.uk/For_Home/Product_Finder/Multifunctionals/Inkjet/PIXMA_MG2150/index.aspx?specs=1