Canon Pixma MG5350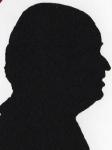 Review controls
Another in the range of All In One units from Canon. This is a five ink offering (two sizes of black), if you of Goff persuasion the all black finish will delight, for everyone else – apart from the lounge police – who cares about colour just performance.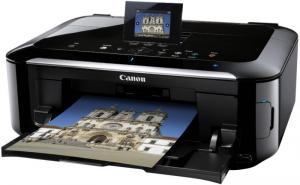 click image to enlarge
The Canon Pixma MG5350 measures 43x35x16cm, these figures are with paper in the rear paper tray but with the exit tray closed, opening that (a task that happens automatically at print time) adds 10cm to the middle figure and you would also need another 10cm clear in front for output to stack. The scanner lid would need around another 6cm to let you insert or remove items. So total area required to use it would be 43x55x22cm, the last figure the height means a strong shelf should be fine. Often things are placed in a cupboard because of noise not so here as its quiet even in fast mode.
All the control buttons are on the scanner lid in a line, a total of ten well marked buttons and the ubiquitous five position joystick which works with the internal controls. There are three LED's along the front edge of it.
The 6x4cm TFT can lay flat of lift up from the back so almost any angle can give a perfect view of the information on it. Below the flip down paper exit door and almost on the right front edge is a USB port which allows you to print images direct from it, you can also scan items to the USB stick, neither of course require a PC to be connected.
Power is input on the back left edge and USB can be connected at the back right edge but of course you can connect wirelessly.
The excellent Canon software took 13 minutes to install and used just under 250MB of hard disc space. By default it creates only two items on your desktop one for manuals and the other for Canon Solutions Menu that everything else can be accessed from.
My tests for printing text pages were a bit slower than the claimed speeds. The nonsensical 200 word document printed 'x' times ignoring the first and last page came in at a tad over eight pages a minute. While the more normal 1500 word document spread over four pages was only slightly slower at seven pages a minute.
A full A4 image on glossy photo paper printed in just 90 seconds and it was dry when it came out, this was very good.
Scanning can be to the PC or to a memory stick; I found a single monochrome page took 20 seconds with a colour page taking somewhat longer. You can of course scan from the PC and into an application of your choice or use the Solutions Centre, you can scan to an image, a PDF or OCR, the time above is for an image.
Copying of a single monochrome page took around 18 seconds to get a page hard to distinguish from the original. A colour page took almost 30 seconds again the output was fine.
These days the amount you can do without a PC is great including of course reduction an enlargement and well as other things, in fact I suppose the All In One is a mini PC. Unlike one manufacturer I have reviewed a couple of units for recently this had no problems feeding even quite thick photo paper and in my basic printing tests I always mix various weights and thicknesses of paper, during my review period I had no paper jams.
You can print several pages on a single page and it also has automatic duplex printing from the top printing menu. To me the main points here are the lack of height and quiet printing – even in fast mode – as the plus items and the slightly slow print speed as the minus but if you want high volume printing then you would get a laser.
Doing my searches found the Canon Pixma MG5350 at a best price of 145.44 including delivery.
http://www.amazon.co.uk/gp/product/B005IUUX90?ie=UTF8&tag=gadge0a-21&linkCode=as2&camp=1634
http://www.canon.co.uk/For_Home/Product_Finder/Multifunctionals/Inkjet/PIXMA_MG5350/