Epson Stylus SX535WD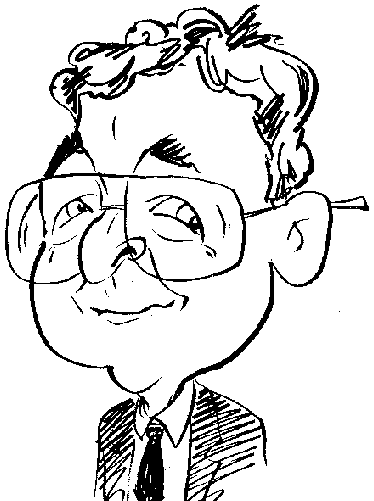 As I say goodbye to one Epson multifunction device, so another model takes its place. This time it is the Epson Stylus SX535WD.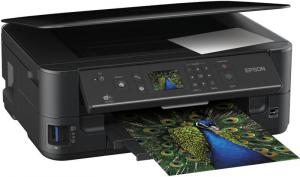 click image to enlarge
Following the pattern established by the previous Epson Stylus multifunction units I have looked, the Epson Stylus SX535WD is a box shaped unit with rounded corners to give it just a touch of style. Predominately black in colour, combining matte and areas of reflective black that tend not to show up finger smears (do I hear a shout of "hurray"), this model has dimensions of 445 x 367 x 169mm making it slightly smaller than the BX635FWD that I looked at recently. The SX535WD offers print, copy and scan capabilities with a choice of USB, Ethernet or wireless connectivity.
Once you have removed the various strips of blue tape from around the unit, you can lift up a control panel positioned on the front of this multifunction device. This panel can lock into place at an angle of approximately 45 degrees. Taking up a central position on this control panel is a 2 x 1.5-inch colour LCD providing feedback information. To the left of this screen are LEDs for power and wireless network status plus on/off, Home and a Photo buttons. A nine option navigation pad plus Start and End buttons are arranged on the right,
Also located on the front is a memory card slot with support for xD, SD/SDHC, MMC, Memory Stick, Memory Stick Pro and Memory Stick Duo formats. Completing the furniture on the front is the paper output opening with an extendible support to stop your documents being scattered over the floor and the input paper tray with a capacity of 120 A4 sheets. I often struggled to replace this paper tray after refilling it. I found it far easier to refill the tray while it was still partially inserted although this method did not help when I needed to adjust the paper guides for different sizes of paper.
The SX535WD, like other recent Epson inkjet models, makes use of four ink cartridges. These cartridges are for Black, Cyan, Magenta and Yellow. You need to slot them into a holder unit located within the body of the printer. Once the cartridges have been inserted, the SX535WD will run a maintenance checking routine which takes around four minutes. At this point you will need to install the supplied software before connecting this multifunction device to your computer system.
The Epson software includes drivers, utilities, photo print application and a copy of ABBYY FineReader Sprint for OCR (Optical Character Recognition) work. At the appropriate point during the installation, you will be advised when to select your chosen method of connectivity. In some cases you might need to attach a USB lead in order for a wireless connection to be established. The USB lead can be removed once the wireless connection has been completed.
Mounted on top of this multifunction device is an A4 flatbed scanner. With a resolution of 2400dpi resolution, this scanner can direct its documents to the printer as it acts in photocopy mode or to a computer. However the SX535WD would not accept my wireless connection when I asked it to send a scan to my computer. However if the request came from my computer using the supplied scan interface, documents could be scanned to my computer via the same wireless connection that was previously ignored. Scanning and printing an A4 full colour photocopy took 24 seconds to produce good quality output.
The Epson print driver that comes with this product offers five quality setting levels. These settings are identified as Fast, Economy,Normal, Fine and Quality. Print speeds for each of these settings when producing a 102-word document with a 35 x 50mm full colour image produced the results in the following table.
SX535WD Print Speeds

| Mode | Speed | Text Quality | Image Quality |
| --- | --- | --- | --- |
| Fast | 35ppm | Reasonable | Washed out colour |
| Economy | 33ppm | Reasonable | Washed out colour |
| Normal | 9ppm | Good | Reasonable |
| Fine | 3ppm | Good | Good |
| Quality | 1.5ppm | Good | Good |
The print driver also supports duplex printing. To test this feature I printed a 3000-word document covering six pages. I selected theNormalprint setting and timed the process as the SX535WD printed one side of the paper and then automatically pulled the page back into the printer to produce the reverse side. The process took 70 seconds.
Various tests were run to test the quality and print speeds for full colour photos. Tests were carried out using the supplied Easy Photo Print utility and printing direct from the memory card slot. Printing borderless 10 x 15cm full colour photos averaged out at 67 seconds while borderless A4 prints required 3 minutes 6 seconds. Image quality was of a reasonable standard.
As with other Epson multifunction models, the SX535WD unit supports the Epson Connect Printer Service facility. This feature allows you to set up a password protected account enabling you to send documents to a specified email address which is linked to the printer. You can thus send documents from a remote location for printing on the SX535WD.
Originally released with a price tag of £149.99, the Epson Stylus 535WD is currently being advertised on the Epson website at £74.99. Individual replacement cartridges are priced at £11.99 with a multipack consists of the four cartridges available at £45.83.
http://www.epson.co.uk/Store/Printers-and-All-in-Ones/Epson-Stylus-SX535WD