Making an Impact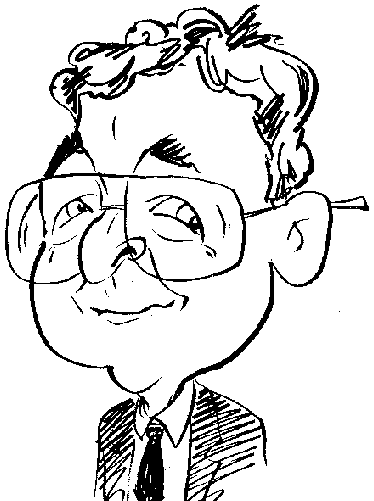 Review controls
First came the Lexmark Interpret and this was followed by the Lexmark Intuition. Now it is the turn of the Lexmark S305 which follows the same pattern of being assigned a name beginning with "I". In this case this multifunction device is known as Impact.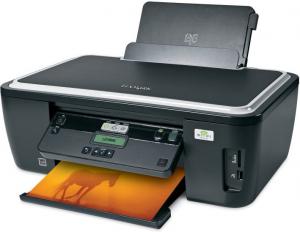 click image to enlarge
Adopting the familiar box-shaped design with a fold-up 100-sheet paper input compartment at the rear and a pull-out paper output panel at the front, the Impact is predominately matte-black in colour with an appealing band of white piping running around the top of the scanner unit. With dimensions of 178 x 465 x 338mm (H x W x D), the unit is slightly bulkier than some other models but not excessively so, while its weight of just over 6kg means you can easily move it around without the risk of a hernia. Following the standard practice, the CIS (Contact Image Sensor) scanner, giving a maximum area of 216 x 297mm, sits on top of the inkjet printer module.
As with the other two models in this series, the Impact has a front-mounted control panel which can either fit flush to the printer's body or be set at an angle for easier access. Taking up a central location on the control panel is a two-line mono LCD display providing feedback information. Positioned above this display are buttons for activating the copy, scan and photo features of the device. You will need to fit the appropriate template strip over this top section featuring these buttons and those for colour/black and start operations. Several strips are provided with the labelling in different languages. On the lower portion of the lower panel are buttons for navigation/selection, cancel and set-up options. I did find that returning the control panel from its locked angled position to its original flush position was extremely difficult although not impossible.
To the right of the control panel and paper out compartment is an area housing slots for accessing data stored on external devices. Support for memory cards includes Memory Stick, Memory Stick Pro, MMC, xD, SD, Micro SD and SDHC – although in some cases you will need an appropriate adapter. You can also attach a flash drive which uses the same port as does a PictBridge connection.
Rather than provide a printer setting-up guide, Lexmark has opted for an illustrated and animated presentation as part of the software installation. You simply follow the on-screen instructions as they lead you through the process of setting up the Impact by inserting the four ink cartridges (black, cyan, magenta and yellow), selecting the language and country plus deciding whether to use wireless with support for WEP, WPA and WPA2 security or USB for connectivity. You will be advised when to make the necessary connection. Specific software is provided for a Lexmark Toolbar which gives Web printing features; tools for Microsoft Office; and ABBYY FineReader Sprint for any OCR (Optical Character Recognition) work.
I have always been sceptical regarding quoted print speeds even before my doctor advised me to cut down on my salt intake. Following my tests with this multifunction device, I will have to adjust my level of scepticism. Lexmark has rated the Impact at up to 33ppm monochrome and 30ppm colour when using draft mode (actually listed as Quick Print in the Properties dialogue box). My standard 101-word document churned out 42ppm in monochrome and then reached 32ppm when a colour image was added to the text. With these speeds you would be forgiven for thinking that print quality would be an issue. It wasn't!
While Quick Print did not produce a quality suitable for business correspondence, it would suffice for many other tasks. Checking out Normal and Best modes produced colour documents rolled out at 11ppm and 5.5ppm respectively. Both modes produced documents suitable for business needs and Best mode delivered laser quality print and excellent colour images.
As mentioned earlier, there is an option to access memory cards and flash sticks for printing photos. You can select either Easy Photo or Print Photo mode before opting to print the most recent, all or those photos that fall within a date range plus select individual images by their number. Set for Best quality, a 10 x 15cm colour print took 26 seconds while an A4 print required 72 seconds. Image quality was good in both cases.
When using the scanner you can send the results to a computer, external storage device, email client or direct to the printer as it acts as a photocopier in either colour or monochrome mode. An A4 colour photocopy took 36 seconds to complete.
Lexmark offers standard and high yield cartridges for this model. A standard colour cartridge is priced at £6.90 using Lexmark's return policy or a pack of three colours can be purchased at £19.33. A black cartridge is available at £11.04. The Impact supports Windows 2000 and later Mac OSX and Linux.
Checking on Amazon the Lexmark S305 is available for £64.94 $79.98 €64.94 including delivery. Details from Lexmark are available on this link.