Canon iP 2702 Printer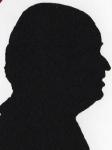 Review controls
It's been a while since I have looked at a printer (as opposed to an All In One or MFU) and even longer since I have looked at a basic entry level offering. Both those criteria are fulfilled by this small unit the Canon iP 2702.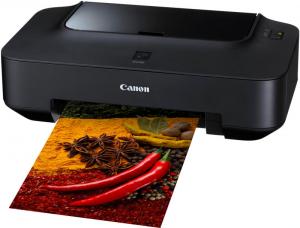 click image to enlarge
The Canon iP 2702 printer measures 44x25x11cm with the lid closed. The lid forms the paper tray at the rear (insert sheets face forward) this adds 13cm to the 11cm height. However you need another 8cm of clearance to place any A4 sheets in the tray. So should you be thinking of placing this on a shelf you need 44x22x32cm overall space. It weighs 3.4 kilos.
This is a four ink two cartridge offering, there are just two buttons mounted towards the back of the top on the right side, the rear one is on/off and the front one is basically a page feed/ clear jams ones that I never required.
Sheets are delivered out of the base of the unit not onto a tray but direct onto whatever you have the printer resting.
I am pleased to say almost all printer manufacturers are now quoting achievable times for printing speeds and here just for once I have the space to quote far more printing speeds rather than just the basic draft printing.
Firstly printing the 200 word single page letter that is the closest I can get to the document used by printer manufacturers when they make their printing claims. There are three modes, Fast, Standard and High. The way they do tests is to ignore the first and last page so let's assume a run of twelve pages the time starts when page two starts to feed in and ends when page eleven finishes printing. This of course ignores the standard dead time between pressing print and anything happening at the printer, normally with this unit that time is thirteen seconds.
So doing my equivalent test in 'Fast' mode I got 10PPM, in 'Standard' mode I got 9PPM and in 'High' mode 3PPM. Perhaps most interesting is the claimed speed of 7PPM for black pages. Next to quality 'Fast' is not bad but I doubt you would send a letter in this but text is clear and readable and quite good enough for a copy. 'Standard' was sharper and any bold words certainly stood out better. Finally 'High' is a little better than standard.
Next the same tests with a more normal 1500 word document that just fits onto four pages again just a black text document. In 'Fast' mode 8PPM, in 'Standard' mode 5.5PPM and in 'High' mode slightly less than 2PPM.
In colour the claimed speed is 4.7PPM, in 'Fast' mode I got 5.5PPM, in 'Standard' mode just under 3PPM and in 'High' mode less than 2PPM all these figures were for the 200 word document, quality was as for black.
Printing an A4 borderless print or four near 15x10cm prints on a single A4 sheet took the same time at 126 seconds. The thinking time before printing was 35 seconds. To print a 15x10cm image (just move the A4 paper from the storage tray and close the guides to allow 15x10cm to be supported) took 50 seconds with 15 seconds thinking time first. All the images were printed on glossy photo paper using the Canon Photo Print software provided. The claimed time is only given for 15x10cm and this is 55seconds.
While the printed photos were acceptable I thought the images were a shade milky but nothing to make them unacceptable.
Certainly a printer for someone who only prints a little because it only has the rear tray, but for that it is quite acceptable.
Doing my Internet searches found the Canon iP2702 at a best price of £35.68 including free delivery.
http://www.amazon.co.uk/gp/product/B0036ORDSO?ie=UTF8&tag=gadge0a-21&linkCode=as2&camp=1634
http://www.canon.co.uk/For_Home/Product_Finder/Printers/Inkjet/PIXMA_iP2702/index.asp