Canon Pixma MP560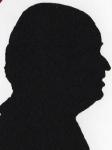 Review controls
This is perhaps the complete All In One as not only does it scan, copy and print but it can be used via USB or Wi-FI, so should the 'lounge police' object it can be stored away from the PC and live out of view in a cupboard.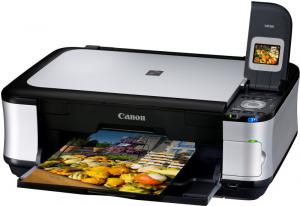 click image to enlarge
The Canon Pixma MP560 measures 43x31x16 the last figure is without A4 stored in the vertical position in the back, but as the only need to have photo paper in that tray the main workhorse can be the underneath tray to print letters and documents from.
I had one major complaint with the previous Canon All In One and that was the cartridge size (it was two cartridge) and they were tiny. This unit is a five ink offering and there are the three colours and a black in the smaller size and also an extra large black for the workhorse tasks of standard letters and documents this also gives the speed.
I am pleased to say that nowadays the print speeds advertised are almost obtainable so those fanciful 30PPM claims made by some manufacturers are now hopefully buried. The maximum claim here is 9.2PPM in black and while even with my nonsensical 200 word document my best was a little less than 8PPM it is probably obtainable.
The colour speed (using the four smaller cartridges) is stated at 6PPM and again I got quite close at just less than 5PPM.
The claim of 39seconds for a borderless 15x10cm image is obtainable but you do need to know it is in standard mode and when I print on photo paper I tend not to worry about speed I just want the best quality possible.
One of my tests is with an A4 image and another with four near 15x10cm images both printed borderless on an A4 sheet of photo paper and this printed in 204 seconds. I do not call that slow and the images were very good.
Both the internal and rear upright trays are stated to hold 150 sheets I think that is rather more than I would stack in either especially the rear tray where I tend to only put at best a few sheets at a time as this is for photo paper.
All the controls on the unit are in a block towards the right front edge behind a flip up lid that becomes a TFT display. There are a total of eleven buttons and the ubiquitous five positions joystick button to control things.
On the front of the unit (right corner) are card slots to support most types of media and below this a Pict-Bridge USB slot. The power lead goes in back left and the USB lead (should you use it) back right of the unit.
Copying can be down from within Windows or direct from the unit which means that the PC does not need to be switched on. Copying speeds for single copies are not fast at something just less than 30 seconds for a page.
Scanning of course needs the PC to be on and this can be done easily even by a novice using the 'Solutions Menu' software than can hand hold you through scanning an image or OCR and it can even convert output to PDF.
While not at the cheap end of All In One units (remember it is five ink) it is not that expensive and ideal for those wanting to use it an intermediate amount, it is also possible to use it via Wi-FI meaning the hard connection can be lost, so you can sit on the couch with a notebook and print to a cupboard under the stairs and thus maintain household harmony with the better half.
Doing my Internet searches found the Canon Pixma MP560 at a best price of £106 including free delivery from the first link below.
http://www.amazon.co.uk/gp/product/B002LVUKLK?ie=UTF8&tag=gadge0a-21&linkCode=as2&camp=1634
I found the Canon Pixma MP560 available from Amazon for $109.09 including free delivery on the following link:
http://www.amazon.com/gp/product/B002GP7Z6Y?ie=UTF8&tag=gadge0a5-20&linkCode=as2&camp=1789
I found the Canon Pixma MP560 available from Amazon for €126,14 including free delivery on the following link:
http://www.amazon.fr/gp/product/B002M9SX4W?ie=UTF8&tag=gadge04-21&linkCode=as2&camp=1642&creative=6746&creativeASIN=B002M9SX4W
http://www.canon.co.uk/For_Home/Product_Finder/Multifunctionals/Inkjet/PIXMA_MP560/index.asp