HP OfficeJet 6500 E709n Wireless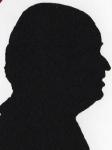 Review controls
This is another HP OfficeJet that is predominately black with a white base and part of the sides; sadly it will never pass the lounge police. However as it is Ethernet/Wi-Fi/USB you could possibly hide it in a cupboard, the latter is also a good idea as when it prints it is quite noisy especially when in fast draft mode.
Buy Now!
HP OfficeJet 6500
Wireless printer
£125.70 from John Lewis

£133.88 direct from HP
including delivery


£138.98 from DABS
including delivery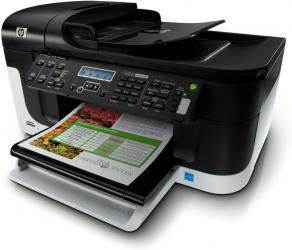 The HP Officejet 6500 is 46x42x24cm. It is stated to give professional colour for 40% less than a laser this is energy and cost per page, but read the HP site for how that is calculated.
There are 36 buttons on the front sloping edge of the unit together with a two line black on white display. There are two card slots for MS and SD/xD on the front left edge. All the connections USB, Ethernet, Power and Phone lead are back left located close together.
Doing my normal print tests produced 20PPM using fast draft for the nonsensical 200 word document and 16PPM for the more normal 1500 word document spread over four pages. Printing an A4 full page graphic on photo paper and selecting best mode came in at a very acceptable 90 seconds.
This unit can print on both sides (duplex) and this can be setup for one or more types of documents.
Copying direct from the unit (without the PC being connected) gives you a lot more choices than some units – three quality modes as an example – but accepting the defaults for a straightforward identical copy is truly one touch, black takes 20 seconds and colour 30 seconds.
Scanning of course needs the PC connected but there are seven choices scanning direct at the unit, scan document, scan picture, save document or PDF, email document or PDF, save JPG, email JPG and save as text, the latter opens the supplied OCR software on the PC to convert it to editable RTF an A4 page takes around 45seconds to the saved file. The normal proviso, give it a good clean copy and the OCR will be pretty good.
You have a lot more options when you start your scans direct from the PC and of course you can also send and receive faxes, although, I doubt how much the fax is still used in the office today.
The HP Solutions Centre is the place for any novice to start as you basically say what you want to do and at most you select a few choices, once you know more you would probably start with the various modules.
I rarely get the space to tell you how much the print menus have changed but here I will take some time to do so. There are three tabs Printing Shortcuts, Features and Advanced. Taking the first you have General Everyday Printing and beside this Paper Size, Paper Type, Print Quality, Print on both Sides and Orientation. The next item is Two Sided Printing and this has the first four options as for General Printing. Next is Presentation Printing that has all the choices as for General Everyday Printing and the option to print in grayscale. Next Photo Printing Borderless that has Paper Size, Paper Type, Print Quality and Orientation. Next Photo Printing with borders that has exactly the same choices as above. Next Postcard Printing that has the same options and additionally the option to print on both sides. Next Fast/Economical Printing where the options are Paper Size, Paper Type, Print Quality, Print on both Sides, Pages per Sheet and Print In Grayscale. Finally Factory Defaults. The important point normally the choice of Printing Shortcuts would be one set of choices that you would need to change for each type or style you printed. You also have a good range of choices for the other two tabs Features and Advanced, so different to only a few years ago.
HP units do tend to be somewhat noisy when printing in draft mode so being able to print to it wirelessly is an advantage, even a longer Ethernet cable gives a distinct advantage over USB here of course you have all three choices in one box.
Doing my Internet searches found the HP OfficeJet E709n at a best price of £125.70 from John Lewis on the following link:
http://www.johnlewis.com/230652271/Product.aspx
The HP OfficeJet E709n is available for $149.98 including delivery from the Amazon on the following link.
http://www.amazon.com/gp/product/B001PO6JN2?ie=UTF8&tag=gadge0a5-20&linkCode=as2&camp=1789
The HP OfficeJet E709n is available for €188.45 including free delivery from the Amazon on the following link.
http://www.amazon.fr/gp/product/B001UR62OK?ie=UTF8&tag=gadge04-21&linkCode=as2&camp=1642
http://h10010.www1.hp.com/wwpc/uk/en/ho/WF06b/18972-18972-238444-3328086-3328086-3795309-3795426.html?jumpid=reg_R1002_UKEN