Canon Pixma MX300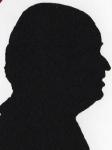 Review controls
This is described as an 'Office All In One' As it is black and grey it is unlikely to pass the 'lounge police' but apart from that it is not that tall and the output quality is good. It is actually a multi function unit as it has fax.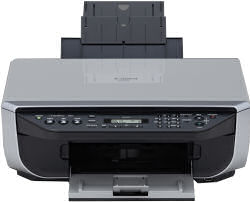 The dimensions of the Canon Pixma MX300 are 45x42x16cm however the height required will be increased to at least double the 16cm stated when you insert A4 paper (face forward) in the rear near vertical tray, this should also be sufficient to insert items onto the flat bed. However to fully raise the lid to vertical would require 30cm on top of the 16cm height of the unit.
This is quite an unusual unit in that printing of text is quite slow but graphics are quite fast, both however give good quality.
Firstly printing the ubiquitous 200 word document that is the closest one can come to the documents used by printer manufacturers to test speed. I got 12PPM in 'fast' mode and also in 'custom' mode where it is tuned to speed. In both cases the output is still black and quite acceptable. Printing a more normal 1500 word document spread over four pages brought the speed down to a tad over 8PPM but again the output was black and sharp, perfectly acceptable but as it is described as an 'Office All In One' that sort of speed may be considered slow.
Printing border less A4 graphics on photo paper and also four close to 15x10cm images took a very nippy 117 seconds and the all important quality was fine.
As a scanner it was a perfectly acceptable unit, using the Canon Solutions menu an A4 black/white text page scanned in 5seconds and this piece of software allowed you to OCR or save as an image or should you wish to save as a PDF.
As a fax it worked perfectly well - I have my doubts how much fax is still used today - but it did all I requested perfectly adequately.
Of course the copy function can be used without the PC being turned on or even connected and again I was perfectly happy with the output. You do using Canon's software again have more choices from within Windows such as reduction and enlargement easily down from a single menu rather than the on stage at a time screen on the unit. However an A4 black/white copy took just over 15 seconds and a full colour A4 set of images took 63 seconds. The black/white image was so close to the original as to look identical. As the colour images I used were photos and I copied them onto plain paper it was quite easy to tell the difference although the images were still sharp and clear but obviously matt.
The unit has a total of 27 buttons on it's front edge with a two line 5x1.3cm LCD display this can be tricky to read if the light is in the wrong place.
The paper input tray is stated to hold 100 sheets this seems a little tight to me and finished sheets are delivered onto a shelf at the base of the unit.
While this is described as an 'Office All In One' it is still found in the home section on the Canon site. It is a four ink two cartridge solution and again I question this as an 'Office' product. I would think that although the cartridges are far from tiny not having separate colour inks might be a problem.
I would place this as a SOHO product and certainly on a desk near the user as the initial paper grab is quite sharp and I did get a few - easy to clear - paper jams when the tray was near empty.
Doing my Internet searches found the Canon Pixma MX300 at a best price of £58.50 including free delivery from the first link below.
http://www.ebuyer.com/product/132445
http://www.canon.co.uk/For_Home/Product_Finder/Multifunctionals/Multifunctionals/PIXMA_MX300/index.asp