HP Officejet Pro L7680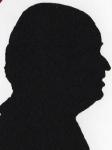 Review controls
As an Officejet it is unlikely to ever get past the 'lounge police' partly because it is not small but mainly because it is black with grey sides, shame really as it is a nice MFU.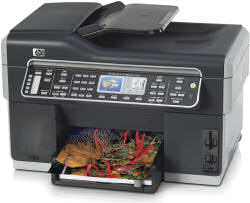 Firstly for those occasional readers an MFU (Multi Function Unit) has fax capabilities whereas the AIO (All In One) does not. Both have the ability to print, scan and copy.
It is 54x42x36cm and compare that to a lot of similar machines and you will see it is big. Mind you it has a duplex unit that adds to the second figure the depth and the third figure the height would be less without the page feed. Both of these are more likely to be used in the office than the home.
Fast speeds are stated in the specifications and while the full stated speeds were of course never obtained the speeds I did were substantially faster than those stated/obtained by some other manufacturers.
As a printer the claimed speeds always covered by the 'up to' can be read in the final link below. What I got was 24PPM printing the nonsensical 200 word test document and around 18PPM printing a 1500 word document spread over four pages. When units have duplex I test not the speed but how closely it lays down the image on the reverse and always (on the limited number of units with duplex I have tested) there appears a slight drop or rise on the reverse, I have asked expects who say it is deliberate - I have my doubts - but certainly you need thicker quality paper to avoid seeing the other sides image.
As for photo printing an A4 borderless print on photo paper in best mode took an acceptable four minutes as did four near 15x10cm images printed on a single A4 sheet of photo paper, neither figures are rapid nor are they slow. Both are acceptable speed wise and more importantly the images they print are quite acceptable as far as quality is concerned. Remember this is a four ink solution and not a six or seven ink offering.
I connected this unit via USB but it does have embedded 10/100 Ethernet for those who want to attach it to a network.
As a fax it is stated to have a 3second per page transfer rate and for those times when the paper runs out it has a 125page memory. Of course this covered by 'Based on standard ITU-T test image #1 at standard resolution. More complicated pages or higher resolution will take longer and use more memory.'
Scanning can either be done through the flatbed (essential for books or magazines if you do not wish to destroy them) or by the page feed and the latter is also useful when sending multi page faxes. I normally think that the test of decent OCR is to give it a slightly less than pristine page (not badly scrunched or folded) and then check on the result. All recent OCR products seem to claim 99% accuracy but if that were a sheet of figures one in one hundred wrong could well be the end of a business. A typo in a document is less likely to be so severe.
Copying can of course be done without the unit being attached to a PC but from within Windows you have a few more options and they are certainly easier to adjust. However copying a single black image took 18 seconds and a full colour one 20 seconds. Also you can copy Letter as well as A4 images. The paper input tray holds close to 250 pages of 80gram paper.
The controls on the face of the unit consist of 50 buttons with a 5x3.5cm TFT display. It has four card slots capable of reading most card types and also a Pict Bridge socket.
Doing my Internet searches found the HP Officejet L7680 at a best price of £248.39 from the first link below.
http://www.dabs.com/productview.aspx?Quicklinx=4HQX
http://h10010.www1.hp.com/wwpc/uk/en/sm/WF06b/5043-5527-5563-5563-12917410-13001600-78018955.html