HP Officejet 5610 MFU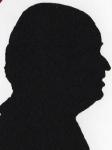 Review controls
As a MFU it not only prints, scans, copies but also for those who still require it can send and receive faxes. The latter is the difference between an MFU and a All In One.
Buy Now
HP OfficeJet 5610
only £69.99 from Amazon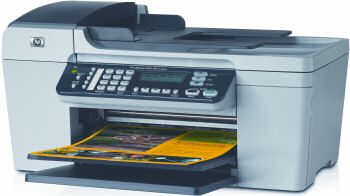 It is 44x42x24cm and weights only around 6kilos. The name sort of gives it away as an office product but that normally means expensive but you should be able to find it for less than three figures as the HP guide is £99 including VAT.
It has both flatbed and sheet feeder so the scanning/copying can be either page or items from books or magazines.
There are 30 buttons on the front edge of the unit but you could almost always use just three of them, the on/off button and colour copy or black copy. The reason for this is that the supplied HP software probably has more/easier options within Windows than operating without the PC on. Yes you can copy without the PC being connected or turned on but everything else probably works better from the Windows interface. There is a 6.5x18cm two line display but - in my model anyway - there was no backlight and seeing black on grey on a non movable display requires the light to be in the correct place.
I was quite happy with all the pages I scanned through the sheet feeder and almost all those through the flatbed, however you do need to make sure that the lid is tight onto whatever you copy to make it as lightproof as possible.
Copying A4 pages (without the PC) has a few options and takes around 45seconds per page in black and about 80seconds a page in colour.
Printing the nonsensical 200 word document was only a little faster at 14PPM to the 1500 word real document spread over four pages that came in at 12PPM. Both were black clear and crisp.
I was disappointed to find that not only can this only print borderless at 15x10cm but then only on selvedge sheets and not those without the tear off strip. You should also be amazed that in 2007 A4 borderless is not possible. I thought that not printing borderless on A4 paper disappeared a few years ago.
A 15x10cm image (best quality) takes around two minutes while a full A4 sheet close to six minutes and a sheet made up of four 9x13cm images prints in around 370 seconds.
Now the claimed print speeds, up to 20PPM in black draft, that means the 200 word document, the 14PPM I achieved is quite close to the claim. The up to .5PPM for 15x10cm image is spot on as it took 2mins to print a page.
I tend to only test the ability to send and receive a fax as the time is always dependant on the other fax machine. However where I cannot accept the claimed speeds is with stand alone copying where the claim is 4CPM and my best was 1.33CPM.
There are a lot of good Multi Function/All in One units out there and despite the price the HP Officejet 5610 is not one of them. For basic printing the quality is okay and reasonably close to the claimed speed. The lack of ability to print borderless for photographs is a minus point. While it can send/receive faxes I am not convinced that is a great requirement today. The copying speed was slow but the quality was okay.
Doing my Internet searches found the HP Officejet 5610 at a best price of £66.46 including delivery from the first link below.
http://www.amazon.co.uk/exec/obidos/ASIN/B000ANH046
http://h10010.www1.hp.com/wwpc/uk/en/ho/WF06a/5043-5527-5563-5563-193517-11541857.html