HP Photosmart C4280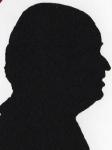 Review controls
This All In One product is small and when closed will probably be inoffensive enough to get past the lady of the houses 'lounge patrol'.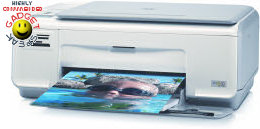 The HP Photosmart 4280 is cream with a grey lid and input tray. This is a four ink (two cartridge) solution. The dimensions are 42x26x16cm when closed the front folds down to form the paper input tray and this adds 15cm to the 26cm depth when A4 paper is stored in it (face down) the printed pages are delivered face up just above this.
There are nine buttons in a row on the left edge and a small 3x2.5cm LCD screen is on the front edge, this however is fixed so you need to conform to it, however it is slightly tilted down at the front and is fine from most angles.
On the front of the unit still on the left of the drop down paper storage tray are four card slots so it can be used to print photos direct. When connected to a PC these show as a (single) drive letter in My Computer, do not upset it by inserting more than one card in the four slots at a time.
Doing my standard printing tests in 'fast draft' mode you get good clear black printing, the ubiquitous 200 word document prints at 20PPM while a more normal 1500 word document spread over four pages prints at 15PPM.
Printing A4 borderless pages using Windows Printer and Fax Viewer or HP Photosmart Essentials came out at around the same time, printing in best mode on photo paper at around 4 minutes this is with both a single image and four images on an A4 sheet. Not that fast but the quality of both was good. I am somewhat surprised that the more full featured Photosmart Premier was not included.
You can of course copy both black and colour pages while the PC is off or even disconnected. Here I use the preset default settings, a black copy took around 40 seconds and a colour one around a minute. Remember my timings are from pressing the copy button to print a single copy.
Scanning from the flatbed is as easy but of course you do need the PC to be connected and switched on, you can scan from the unit but providing it is switched on it is probably easier to insert the page in the flatbed and then do everything from the PC.
The optical scanning resolution is 1200DPI, the hardware scanning resolution is 1200x2400DPI and by enhancement it is possible up to 19200DPI.
Print quality was excellent - even in draft mode - and I was happy with everything I scanned or copied. Print speeds were quite near what was claimed, the scan speed for documents was slow but accurate and some colour documents looked as good as the original. If you give a good original the scanned output will be good, OCR of a text page will also be good providing it is not folded or creased, if it is you may need to make a few changes.
Why buy an inkjet printer when a unit like this is almost the same size and not that much more expensive than even a basic printer and you then have the ability to print direct from camera cards, to copy that document and even to scan items to the PC? For those copies a basic interface on the unit makes everything a single button press.
This is sold by HP at the bargain price of £79 on their site, doing my Internet searches found it at a best price of £39.99 including shipping from the first link below.
http://www.amazon.co.uk/gp/product/B000RZ8XZM
The HP PhotoSmart C4280 is available for $91.98 including shipping from Amazon on the following link :
http://www.amazon.com/gp/product/B000UC8ZRS
The HP PhotoSmart C4280 is available for €71,30 including shipping from Amazon on the following link :
http://www.amazon.fr/gp/product/B000UC8ZRS
http://h10010.www1.hp.com/wwpc/uk/en/ho/WF06b/5043-5527-7369133-7369133-12430854-80134461-80141833.html