HP Photosmart C8180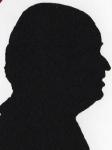 Review controls
This is a All In One as it scans, copies and prints but it also has a built in Light Scribe CD drive so it can also do that bit more, so I suppose it's an All In One plus unit.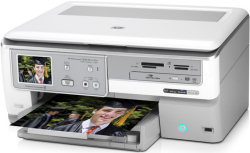 I have seen several small printers that are really designed as photo printers but they were all only for 15x10cm output. This is a full A4 printer and that as well as copying can be down from the four buttons on the interface that slides out 45% at the front, it also has a huge 7x5cm display.
The unit is 43x38x19cm and the front of the unit also has four card slots and a USB stick slot that allows Pict Bridge connection. The front right area that has all the slots mentioned also has a Light Scribe drive and apart from it's use to print images direct on the printer it appears as a drive on the PC. If that is say a compact notebook that does not have a CD drive it can be used to install programs on the PC and even be used to play audio CD's through the PC. This is a six ink, six cartridge offering with reasonable sized cartridges.
As a printer of text documents from the PC it is quite rapid at 22PPM for the nonsensical 200 word document, it was only marginally slower at 20PPM for the more normal 1500 word offering spread over four pages.
To print an A4 image or four images on an A4 sheet took between 160-170 seconds. Printing direct from the printer was slower but a 15x10cm image on photo paper from the special photo tray above the main paper tray printed in around two minutes.
Copying in black or colour can either be done from software inside Windows where you have a number of options on a single screen or direct on the unit where the PC does not need to be switched on or even connected. An A4 colour copy from the printer takes around 20 seconds when the unit is warned up and an A4 black/white one takes around 15 seconds.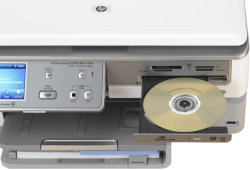 Scanning is of course only copying but instead of what you copy being printed onto paper as with a copy it is sent to the PC and saved either as a graphic or editable text with OCR being provided to interpret it to editable text. However this unit has something normally only found on standalone scanners the ability to scan transparencies and 35mm film negatives. Lift the scanner lid and remove the white backing lid to revel the transparency holder.
I found a full install of the software provided took around 20 minutes and took 760MB of hard disc space this was on a reasonably fast notebook running Vista Basic that had never had a printer attached previously.
The card types supported in the four card slots are Compact Flash, xD, SD,MMC, SDHC, HDMMC, MMC Plus, MS, MS Pro, MS Duo, MS Pro Duo, and with adapters not supplied miniSD, SD Micro, MMC Mobile and MS Micro.
A few words on the internal Light Scribe drive this is a CD and DVD unit supporting almost all types of CD and DVD + and - R and RW.
I used USB to connect the unit but it also supports Bluetooth (built in) and Ethernet.
So if you want just an All In One HP do plenty of machines but if you want an All In One with built in CD/DVD and Bluetooth/Ethernet and the ability to scan slides and negatives then this is certainly the model for you.
Doing my Internet searches finds it at the best price of £285.72 including shipping from the first link below, the HP site has the PhotoSmart C8180 for £299 including VAT.
http://www.microwarehouse.co.uk/affiliate/dgm/catalogue/item/A0346109
http://h10010.www1.hp.com/wwpc/uk/en/ho/WF06b/5043-5527-7369133-7369133-80563082-80563147-80579403.html