HP Envy 120E AllinOne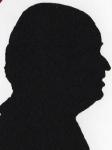 Review controls
HP first delivered an Envy in the period when they sent nothing out for review, this then is a much later version and is the first to make its way into my office to be given the once over, it may even please the all-seeing lounge police!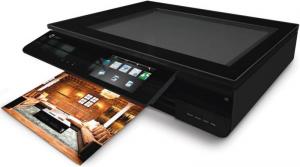 click image to enlarge
The first thing you notice is that the scanner lid is made of clear glass and the whole unit is sleek and very fashionable.
It is 42x31x12cm when closed. However that is with the display panel closed and this will automatically open to 45degrees when powered on and this adds around 5cm to the overall depth. The reason that the last figure is 'around' is that you decide exactly the angle you want for perfect viewing. The panel is 32x7cm and has six LEDs and a 9x6cm touch display to control everything.
You can connect by USB or Wi-Fi; a full install can be done from the supplied CD or by checking online to see if there are updated files. It took only four minutes and used only 150MB of hard disc; while this may sound a lot, today it is not.
The paper input tray is at the base and is not large; it is stated to hold xxsheets. However it opens automatically to insert paper and at print time a paper catcher extends to catch the pages, not science fiction it is here with the well named Envy.
If you connect via Wi-Fi you have access to a number of extra features such as Quick Forms, Calendars and others. For those using USB you just have the basic copy, scan and print, but, even here, the number of options is many.
Let's start with copying, almost all flatbeds require the page to be placed face down, here its face up as the scanner is in the glass top, you get an option to view the scan before printing to be sure lineup is perfect and then press start, a monochrome perfect copy takes 20seconds and a colour one 40seconds, these are so good you will not tell one from the other. There are of course lots of options such as reduction/enlargement and various manipulations.
Scanning follows the same lines with the option of scanning to Email, Computer, Memory Card or USB Drive. Let's say you choose Computer then the choice is photo or document, choosing the latter gives the options of TIF or PDF, all these are from the large touch screen, having made the choice again I choose the latter a PDF is created and saved on the PC in 20seconds and the folder is opened so you can check but again the scan is superb.
Now for printing, as always my tests are made in draft mode, this is often grey and very poor; here the quality is still excellent and best of all a nice deep black. My nonsensical 200 word document – the nearest to that used by the manufacturers – came in at 16PPM, printing a more normal 1500 word document spread over four pages was only slightly slower at 13PPM. Unlike some other manufacturers the noise level was only fractionally higher and the paper was not snatched so the chances of paper jams ensuing was reduced, I never had one during my review period despite mixing weights and types of paper and even printing on the reverse of various pages.
Printing an A4 page on 'Best' setting using Photo Paper took 222seconds, the quality was superb and I doubt it could be improved from a four ink two cartridge printer. I used the standard Windows Photo and Fax wizard but HP do have some Photo Creation Software that can be downloaded, an icon was created during the full installation.
The other icons created are one to 'Shop for Supplies' and 'HP Envy 120 series' which to me seems rather basic – having been spoilt by what you can do with the screen on the unit – but this has five tabs ePrint allowing Web printing and more, Scan and Print, Shop, Help and Estimate of Ink Levels.
This is a futuristic unit that is available now and I feel totally spoilt after using it for a couple of weeks. The HP Envy 120 is available from the link below for £217.04 with free delivery.
http://www.amazon.co.uk/gp/product/B009L1UJ2S?ie=UTF8&tag=gadge0a-21&linkCode=as2&camp=1634