Brother DCP 8065DN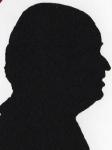 This is an All In One but not an inkjet, it is a laser unit, it can print in mono, it can copy in mono and scan in colour, however unlike a lot of laser All In Ones it is not huge in size or weight.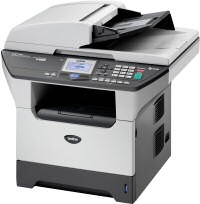 So first the dimensions it is 53x43x43cm and weights an amount easily moveable by an adult. The dimensions are maximum sizes as the top is larger than the base to accommodate the scanner. In fact it fits in a space often taken by one of it's inkjet brothers (no pun intended).
As a printer this will print 28PPM of documents for as long as the 250 sheet paper tray has content. I found first page out was around 10 seconds after sending but from then on it matters not if it is a 200 word document or one where every possible part of the page is taken it just prints at 28PPM.
The quality is excellent, I always think that turning a colour page into grey scale is a good test and this is does well, I have a full colour page made up of small blocks of colour through shades and percentages and this is a good test of colour ability however it also works well when printed or copied into greyscale on a mono device. I also scanned a colour printed copy and when scanned (remember this unit scans in colour) this also looks excellent.
This has a short warm up period and for anyone wanting to copy the odd document this is very quick. Using it in copy mode does not require the PC to be switched on or even connected. The front panel of 30 buttons and a 7x3cm - five line - display can not only produce straightforward copies but these can be enlarged or reduced and it can also copy double sided sheets. This unit is both a sheet feed and flatbed unit to allow for copying of items in books and magazines.
Scanning of course needs the PC and here a nice front end called Control Center 2 (pity they could not spell it the UK way) once you scan something on the DCP 8065DN this springs up offering you the choice of scanning to an Image, OCR, E-Mail or File. You could set up Custom Scans (four possible) to open specific packages for specialist work, this also works well if the person doing the scanning has little knowledge as it could be wizard led.
This package also makes pre set options for copying possible and this would also be time saving if you wanted a particular option carried out regularly, as an example a 72% sized copy. It is also possible to control the unit from the PC.
The DCP 8065DN supports legacy systems as it can be connected by parallel port, the normal use of USB and perhaps the most useful this can be setup as a network printer - via Ethernet port - to suit an office environment. It is possible to setup passwords so that sensitive documents are only printed when the correct person is there to collect them. While the office junior might love to see everyone's pay rates, or the company sales predictions might be great news for the temp these documents should only be seen by the correct people and this unit can handle all that and more.
While I doubt that it will move about much it was a lot lighter than I though at around 16kilos. The basic toner cartridge is rated at 3500 pages (5% coverage) but there is also a 7000 page cartridge available, you can purchase a second input tray for those who need it. All the 8000 series machines have a twelve month on site warranty.
Doing my Internet searches found it at a best price of £313.11 including free delivery - certainly a plus when you consider some companies charge by weight for deliveries - from the link below.
http://www.printerland.co.uk/acatalog/Brother_DCP_8065DN.html?source=PLandKelkooBrother#aDCP8065DNU1
http://www.brother.co.uk/g3.cfm/s_page/50670/s_level/17000/s_product/DCP8065DNZU1