HP Photosmart 8050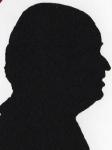 Review controls
This HP inkjet printer is quite wide but the depth makes you think surely this cannot print A4 it does and for good measure it's borderless, however this is also a rapid unit.
The HP PhotoSmart 8050 is 45.5x32x17cm and this includes the power and USB leads inserted. Perhaps it's the lack of height that makes it appear small, certainly it would fit on most shelves without any problem. You only ever need access to the front. The paper sits in a drop down tray - face down - and is delivered face up on a shelf just above. The on/off switch is front left along with PictBridge socket and memory card slots, and, the other controls and inputs are front right. There are a total of 12 buttons a 4x3cm display that allows you to select images from 'cards'. The top stores a strange looking piece of plastic that accommodates both 10x15cm and smaller photo sheets and this fits in the gap between the tray and shelf allowing easy printing of these photo pages.
So apart from being a printer that can function away from the PC it is also very good unit when used under Windows, the quality of output is fine and as a by product also rather quick.
Installation is software first and during this process you are told when to connect the printer. Doing a full install will probably take 15 minutes and need around 600MB of hard disc space. The unit I looked at had no paper documentation at all, even the setup sheet was on CD but this I hope will differ when the main product run starts.
Printing the nonsensical 200 word document that all printer manufacturers treat as the holy grail produced close to 20PPM and unlike some manufacturers 'draft' mode it was black and readable. A more normal 1500 word document spread over four pages printed at a respectable 12PPM. Draft mode is only 300 DPI but still quite good. The other modes are 600DPI.
For printing images it was also rapid (not important to me, only quality is) printing four 9x13cm images using the Windows print assistant took around a minute, the quality on plain paper was good. The same four images on photo paper and 'best' mode came through in under four minutes. I tried the same images with the borderless option checked and they printed 14.5x10cm with a white cross of unprinted area separating them on the paper but perfect to the edge and took only a few seconds longer. A full A4 borderless print on photo paper and in 'best' mode also came in at around four minutes, fast and good.
Printing from the printer without the PC being involved - direct from cards or camera - is all controlled by the comprehensive menu displayed on the screen of the printer. Insert a card - most popular types are covered - it reads it and tells you what still images and indeed videos are on the card. You can scroll through them and select the ones to print. By default if you have A4 paper in the printer it will print 25x20cm images, theses take around 40seconds to print but with the reading time from the card a range of images will print at about one per minute.
The range of 'what and how' that can be done include simple editing, rotating and even red eye removal. All the above and more can be done probably quicker and easier within Windows but then the PC may not always be available.
The HP Photosmart 8050 is very new and the number of places having stock is small. www.dabs.co.uk have it for just under £93. John Lewis have it for £84.95