Samsung Tiny A4 Laser Printer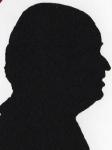 Review controls
This is said to be the world's smallest A4 laser printer, certainly I have not looked at a smaller one. However it is a 16PPM mono offering that works with later versions of Windows without even having to install any software.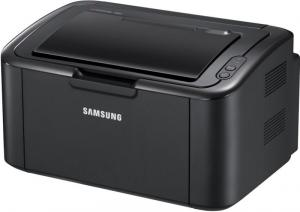 click image to enlarge
It is 34x18x22+15cm when paper input tray is open. It is black and weights a little over 4kilos so should work on a shelf.
The unit has a simple design the front folds forward to make the input tray, the top folds forward to make the out tray. At the back on the right edge are the two connections, power lead near the base with USB lead near the top.
The right of the top has two LED's and two push buttons as the only controls on the unit, all very simple and straightforward.
The folded down front that is the paper input tray (face up) is stated to hold 150 sheets, this seems quite ambitious to me. The top output tray (face down) states 100 sheets again I don't think this is possible my figure would be around 30 sheets before they start getting pushed off the front of the unit onto the desk or floor.
The printing speed of a laser printer always seems to be correct as opposed to the claims of inkjet ones that are imaginative and if achievable only with something like a 200 word page in draft mode that is often grey rather than black.
Here you get the claimed 16PPM (17PPM for letter paper) every time. This does not only apply to a standard A4 page. I have a large database that has close to 7000 entries. I print this out at four pages per A4 sheet so 40 pages of information for the near 7000 lines of information. This also prints at 16PPM providing there is paper on the input shelf.
First page out from standby is less than 10 seconds and even from off the time to readiness to start printing is around five seconds.
While there is a CD provided if you are using a recent version of Windows then all you need to do is plug in the USB and switch on Windows then installs the required drivers and it's ready to print. It takes little than attaching a USB stick and the messages in the tray say installing a device driver and that's it ready to go. Okay there might be more bells and whistles on the manufacturer's drivers it still allows multiple pages per page etc and for a mono laser you only really want to print pages. It means the printer can be attached to any recent PC without having to take the PC and you can just print. If this were a multifunction device I am sure there would be a good reason or three to use the Samsung CD to install their drivers but not with a mono laser printer.
I not only printed on standard paper but also flimsy, thick and even card. As part of my tests I mix up a whole range of weights of paper and include a couple of sheets that have been crumpled up I got no jams or misfeeds.
A standard cartridge is stated to print 1500 pages but the shipped cartridge only does 700 pages. The monthly cycle is stated as 5000 pages.
This is an easy to use laser that you switch on and it prints even without having to install a CD, printing can't be easier than this.
Doing my Internet searches found the Samsung MP-1665 at a best price of £73.08 including delivery from the first link below.
http://www.amazon.co.uk/gp/product/B003G9XNXI?ie=UTF8&tag=gadge0a-21&linkCode=as2&camp=1634
http://www.samsung.com/uk/consumer/print-solutions/print-solutions/mono-printers/ML-1665/XEU/index.idx?pagetype=prd_detail