A Personal Home Cloud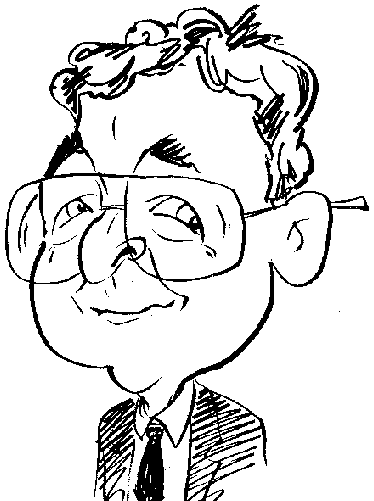 Review controls
With its background in hard drives, WD has come up with a personal Cloud solution.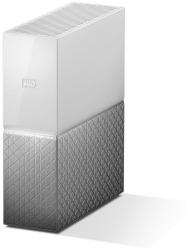 click image to enlarge
Where do you store the ever-increasing amount of personal data? With the options available, such as local drives, network facilities, flash devices and Cloud services, the choice and spread of the data is wide and varied. You could opt for a single location or prefer to mix and match as circumstances decree. Offering to help with the organisation and management of the multi-location approach is the WD My Cloud Home product which, as its title might indicate, offers personal Cloud type storage for your home.
My Cloud Home is capable of delivering Backup, Sync and Add facilities made up of a combination of NAS and Cloud type storage services. There is support for certain NAS features via a browser-based dashboard and DNLA support plus access for the host computer, smartphones and tablets. You can offer to share content with specific guests while protecting your personal data with passcode and fingerprint options.
Adopting a similar colour scheme as that featured by the WD My Passport Ultra, reviewed recently, with a lacquered white and patterned metallic sector, the My Cloud Home is a rectangular box. This product comes in various capacities with up to 16TB of storage in single or duo drive configurations. My review is based on the single 3TB model of the product. Designed to stand upright, the drive unit has dimensions of 175.5 x 53 x 140 mm (H x W x D). Located on the rear of the drive are connection sockets for mains power, Ethernet and USB 3.0 devices. Leads for both mains and Ethernet connection are provided as standard.
According to the packaging there was mention of a Quick Install Guide being included. This is little more than an illustrated piece of card Fortunately the WD website provided a link to download a PDF version of the My Cloud Home User Guide which did contain more information regarding setting up the drive. This proved straightforward.
While the presence of an Ethernet connection does not necessarily mean the lack of a WiFi option, in this case it did. After powering up this device it will need to be added to a LAN using the supplied Ethernet lead. Once the connected device has been powered up you can move on to the software stage by logging on to www.mycloud.com/hello and follow the screen prompts.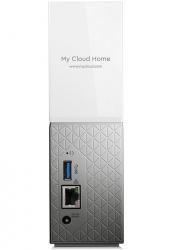 click image to enlarge
New-comers will need to create an account while those with one already can just enter their email address and password which must contain upper and lowercase letters plus a number. The account will locate the My Cloud Home device, recognised by its serial number, which can be found on the Quick Start Guide card, and make the necessary connection.
WD has developed three apps that can be used with different aspects of the product. The My Cloud Home Mobile app provides contact and management tasks between an iOS or Android device and the WD product. The MyCloud.com Web app delivers access to the Internet browser on different operating systems without requiring software installation. The My Cloud Desktop app gives the user basic folder access through a Windows or Mac personal computer.
Once set up My Cloud Home can be tailored to meet your needs by selecting to link the device to those services you can not manage without. There is support provided for services that include Plex, Dropbox, Google Drive, My Cloud Alexa, Sonos and IFTTT as you make My Cloud Home your central repository for your personal content organised for easy access and search facilities. Options are available to automatically backup any collected photos and videos from your smartphone to the My Cloud Home environment. The presence of the USB 3.0 port means that you can quickly import content from the different devices you have that might not be network connected. Other features include an automatic backup of camera content and synching online Cloud content.
While I personally would prefer a lower profile, with the device being laid flat, I can understand the need for the upright stance to aid ventilation. The My Cloud Home box does get slightly warm to the touch and it could double as a hand warmer during cold periods. As mentioned there are various capacity models available
2TB - £144.99
3TB - £159.99 as review
4TB - £189.99
6TB - £239.99
8TB - £289.99
In addition to the single drive models there are Duo versions with 12 and 16TB.
https://www.wdc.com/en-gb/products/personal-cloud-storage/my-cloud-home.html#WDBVXC0030HWT-EESN