Vax Blade2 Max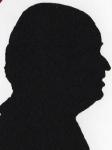 It's been a while since a new VAX vacuum has come my way. Here an offering that the demonstrator held up with two fingers of one hand and as far as I know he was not a weightlifter so it is quite a light unit that can be used on floors, upholstery or ever picture rails.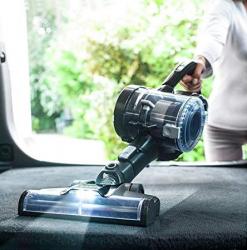 click image to enlarge
It is 114cm tall when used as an upright vacuum, the head is 25cm wide so will go in lots of places a full sized vacuum will not and 18cm deep. Just over 60cm of pipe connects the cleaning head to the 25cm wide top part which is the suction motor and dirt storage container, other lengths of pipe are available in the box together with various other cleaning heads which enables it to be used as a handheld.
Being a cordless offering means that you have no worries about length of cord the only cord is the one that fits in the top of the handle and goes to a DC/AC converter 13amp plug. The length of this is 1.8metres but if you check the LED's while in use and charge before you get zero remaining you should in any normal sized property never run out of cleaning power, the supplied battery gives 45 minutes of cleaning time between charges. I found a full charge from empty took less than two hours.
Emptying the 12cm circular dirt bin is easy, the who bin unclips from the top of the unit and is still sealed until you press the release button over your kitchen bin of wheelie bin and then it reconnects in place by lining up the yellow symbols so it cannot be connected incorrectly, as the bin is clear plastic you can easily see when it is getting full.
With the small cleaning head and various twist angles it is extremely flexible as a full size unit and as a handheld small and light so easy to use even by a child.
The handle on the top of the unit has three buttons all of which light up first on/off, second power to turn the cleaning head and third a turbo button. Below these are up to four white LED's dependant on the battery charge state. This is basically all you need to know to be able to clean efficiently and easily.
Some impressive power and noise charts were shown at the launch event but my tests are how easily does it move from long to short carpet and even to hard floors – no adjustments required – and if you need to go over things more than once to get bits of dirt. This ticked all those boxes.
Full details of all the claims are available on the link below. I know it cleaned everything I asked it to without problems.
On the front of the cleaning head are two bright LED's so even those dark corners are well illuminated so you should be able to see everything before it gets sucked up.
Currently you get a free tool kit worth over £50 when you buy from the VAX website. This kit contains flexible crevice tool, tough dirt tool, dusting brush, textile tool, stretch hose and a storage bag.
The VAX Blade2 Max is available from the link below for £249.