Teufel One M Speaker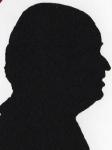 This is more than just an enclosure with Bluetooth speakers. The Teufel One M is a Bluetooth speaker that can be linked to any device to output its sounds but it is also – via the Teufel App – able to do much more including play Internet radio.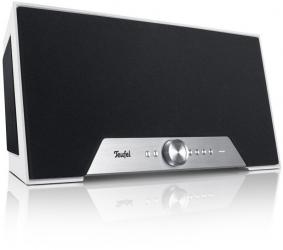 click image to enlarge
It is 42x20x16cm and weighs 5.2kilos (11.5lbs). While it is 42cm wide at the front it is only 30cm wide at the back.
The front is all speaker apart from a control dial near the base in the centre and both aides are also speakers.
There are six small round buttons on the front and between button two and three a larger volume control twist button.
The rear has a 3.5mm input for Line-In, Ethernet, USB, setup button for Wi-Fi, Bluetooth pairing button and mains lead input.
Apart from the unit and the mains lead there is also an A5 12 page booklet that explains everything. The USB socket has a dual purpose of updating Firmware and it can also play music saved on a USB stick via the 'My Music' area of the Teufel App.
While many features will work by just setting the unit up and using your phones Bluetooth, extra features are available via the App which can be downloaded from the iOS or Android store.
I found it easier to use the App if the system was on before you opened the App.
There are three drop down areas Favourites, Last Played and Personal Trends. Just above these are a search button and to its left a further drop down menu Home, My Music, Playlists, Line In, Tune In, Spotify, Settings, Online Manual and Tutorial.
Tune In is the way to get Internet Radio from around the world and in fact you can save up to three stations for instant connection, should your SmartPhone move out of range or even if you turn it off you will still be able to continue to listen to the Internet Radio station you are tuned to.
There are five icon groups, Music, Talk, Sports, Local and Teufel Favourites.
The Teufel One M has excellent sound quality with 4 tweeters, 2 midrange drivers, a woofer and 2 passive bass membranes.
Wherever you place the unit sound is available in an 180 degree sweet spot.
While Spotify is available from within the package I was testing Deezer during my test period and this can be streamed via your SmartPhones Bluetooth, in my tests the volume level from the Teufel App was greater than the Deezer from my SmartPhone, it just meant a few adjustments either on the SmartPhone or the One M using the volume control on its face.
The USB port used via the My Music tab in the Teufel App accepts most formats including WAV, MP3, FLAC and Apple Lossless. Like the Internet Radio option mentioned once it starts to play files on a memory stick it will continue to play until everyone has been played even if the SmartPhone is off or out of range, here however, a single touch on the 'next' button just to the left of the volume control on the unit will initiate another play though of the memory sticks contents.
This speaker set give excellent sound and plenty of it, the range of inputs mean that even an external CD unit can be connected via Line In to give a great sound.
Teufel One M is available from link below for £429.98 including shipping.
https://www.teufelaudio.com/uk/wifi/teufel-one-m-p16563.html