Tefal Quick Cup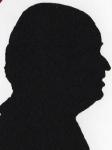 Review controls
Fancy a piping hot cup of water in three seconds, yes three seconds, then this could be for you. Of course it's up to you to decide if you want water, tea, coffee, soup or many other beverages this just heats the water very quickly.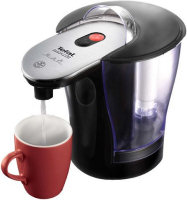 This is really two products in one. First something that heats or dispenses tap water quickly and second one that heats and dispenses filtered water quickly.
The Tefal Quick Cup is 21cm tall and 15cm round at the base it gradually gets wider towards the top and at the protruding spout it is 25cm from front to back and 18cm wide. The 70cm long 13amp lead comes out of the base at the back.
The water container is the shape of a crescent moon and has a carry handle that enables easy filling if you use the water filter this has a bayonet type fitting that fits into the interior base of container. There is a lid also shaped like a crescent that fits on the unit so that water can be left in the unit over say a day without getting dusty.
Once fitted the working part has only two buttons one to produce very hot water and the other room temperature water. The tank holds 1.5 litres; however you cannot produce room temperature water immediately after hot without either waiting a few minutes or drawing an amount off and throwing it away.
The instructions naturally state that the unit should be thoroughly cycled through with water before first use. You are told how to fit the water filter. There are ten sides of instructions most of which is told by twelve 'figs' on a single page. Referring back several pages is not always the easiest thing to do.
I fitted the Claris filter cartridge supplied; it certainly changes how the water tastes and is probably an acquired taste. However with or without the filter it does heat water very quickly. The claim is three seconds, what is not described is if this is for the cup of water or for water to start pouring into the cup. If it is the latter then I have no complaints. If you are meant to have a cup by then I would disagree with the claim.
The manual seems to cover more than one model and it had me searching vainly for a control that does not exist on the model I have. It seems on some models you can specify the cup size – not the one I was sent – you get 220ml of very hot water from a single push should you want more either hold it and then it stops once you let go or I found that pressing once getting the 220ml and then pressing again and then pressing the room temperature water button to stop the hot flowing. Of course should you want more than 440ml then repeat.
I could not find these instructions anywhere in the manual. If the other model/models are so different then surely they merit their own manual.
This could enable an office room without running water to produce hot or room temperature drinks as the 1.5 litre capacity could save several visits to a tap.
If I liked the taste of filtered water I would be more inclined to like this product but trying to be objective it can produce hot water quickly. Not sure if the limited time it saves over a part filled kettle makes it worth the money unless you use the filter.
It has an energy saving certificate 'saving 65% over a kettle' but if does not say how much water twas in the kettle.
Doing my Internet searches found the Tefal Quick Cup at a best price of £55.99 including free delivery from the first link below.
http://www.amazon.co.uk/gp/product/B000SK9G52?ie=UTF8&tag=gadge0a-21&linkCode=as2&camp=1634
The second link http://www.quickcup.co.uk/ has a demo of it in action.